The Best Nylon Stockings and Where to Buy Them
Disclosure: This post contains affiliate links.
Today, May 14, is the 73rd anniversary of the nylon stocking, which was first introduced by the DuPont Company at the 1939 World's Fair. Before nylon, stockings had been made of cotton, wool, rayon, or silk... materials which were either too bulky and warm to wear comfortably year-round or too fine and delicate to wear all day without tearing.
When I first started blogging, it was as Stockings Addict, so hosiery will always hold a special place in my heart. I love how stockings can instantly make any outfit more sophisticated, more stylish, and, yes, more sexy just by their presence. Unfortunately, stockings have been waning in popularity for years now, and you only have to look at the photo at the top of this post to see that stockings today are far less elegant than those of previous decades.
But for those who still enjoy a fancy nylon stocking, all isn't lost. A few companies, like Cervin, still produce creative, fashion-forward styles, and the machines of today allow for combinations that could only be dreamed of in the 1960s.
If you're new to stockings, there may be a few terms in this post you don't recognize, so let's do a quick review. A Stocking (unlike pantyhose, tights, or thigh highs) requires a garter belt to keep it on the leg. RHT stands for Reinforced Heel and Toe. Fully Fashioned Stockings (like the one shown above) are made in the vintage style, sewn flat and then stitched up the back with a fully-functional backseam and trademark keyhole. Cuban and Havana Heels are squared off at the top, while French Heel stockings come to a point. Fancier styles, like Manhattan Heels, have an outline around the heel and foot. Non-stretch Stockings are more authentic as they're made of 100% nylon, but have no "give." Stretch Stockings, made of a nylon/lycra blend, are less authentic but more resistant to tearing.
And a few quick notes when it comes to hosiery care, especially for the stockings listed below. 1) Invest in a pair of hosiery gloves. 2) Purchase a specialty hosiery wash like Hosiery Mate. 3) And always, always, always hand wash and hang to dry.
And now that we've covered a few of the basics, let's move on to the stockings...
Kay Marel
No one makes stockings like Kay Marel anymore, and believe me, I've looked. These authentic fully-fashioned nylons from the 1950s are almost a steal at $32.50, and the skyscraper and bow fancy heels look like something straight off the set of Mad Men. Unfortunately, if you're not petite (that is, if you're over 5'4") these stockings aren't a good fit for you. They simply won't come up high enough on the leg. To illustrate, I'm 5'8", and they came to just above the knee on me. Height issues aside though, these are fabulous nylons.
Secrets in Lace
If you've not heard of them before, Secrets in Lace is pretty much the resource for authentic vintage-style (otherwise known as retro) stockings. These are the nylons Dita von Teese relies on for all her burlesque shows, photoshoots, and red carpet appearances. While they offer a ton of styles suitable for everyday wear, the fancy stockings shown above are my personal favorites.  All three pairs range from size Petite, fitting women who are under 4'11" and less than 95 pounds, to size Opera, fitting women who are up to 6'2"and 200 pounds. The styles shown above cost (in order from top to bottom) $54.99, $45.99, and $25.99, respectively.
Agent Provocateur
With a kinky twist on the classic French heel-and-seam stocking, Agent Provocateur's "Whip Me" nylons are a delightfully naughty union of vintage style and modern flair. Wear them with your highest, most fetishy heels for a look that grabs everyone's attention. These stockings retail for $70, and the size C fits around a size 8/10 US.
Cervin Stockings via Stockings HQ
I'll just come right out and say it... I love Cervin. And apparently I'm not the only one since (full disclosure) they make stockings #3-6 on this list too. Not only are the prices incredibly reasonable, these stockings feel and look amazing on the leg. Even better, they're available in sizes Small (fitting women around 4'10") to XXX Large (fitting women up to 6'2"). I've purchased multiple pairs of what you see here in multiple colors, and never been disappointed. The stockings show above are priced at (in order from top to bottom): $56.88, $11.80, $12.61, and $17.50.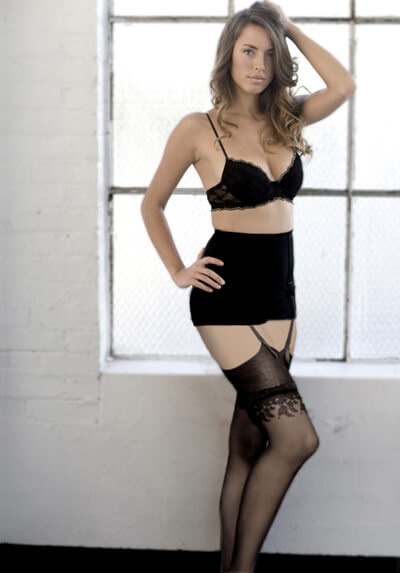 Stockingirl
Stockingirl is another fantastic hosiery resource, especially if you live in the United States, and these lacy Gabriella stockings are perfect for a holiday party or fancy evening out. These stockings are also made of stretch nylon, so they're less likely to run and you don't have to worry about them wrinkling around the knees or ankles by the end of the day. Available for $39.99, the Gabriellas fit women up to 5'9" and 160 lbs.
Dollhouse Bettie
The last pair of stockings on this list aren't especially delicate or fancy when compared to the other nylons we've talked about so far, but they are amazing for two other reasons. 1) They're made in-house at Dollhouse Bettie (the only lingerie store I know of that makes its own stockings), and 2) They are incredibly well-made and durable. The Eternity stockings use sheer black mesh instead of traditional nylon, which makes them great for women who want to wear more hosiery, but are worried about tearing or ripping their stockings. These retail for $29 and fit up to a size US 18.