"We Don't Talk To Bloggers": Why Cadolle, Aubade, and Huit Lingerie Fail at the Internet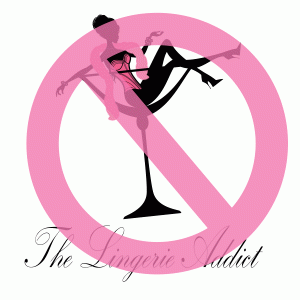 I've been sitting on this post for a little over two weeks now, debating how I should write this or even if I should write it. Brands don't really like it when you say unfavorable things about them, and my last negative review (written about Intimacy Boutique in Atlanta) got a lot of private pushback from lingerie professionals who felt I should have given Intimacy advance notice and/or announced that I was a member of the press before going in for a bra fitting (which somewhat defeats the purpose of getting an everyday customer's perspective, but anyway...).
As many of you know, I attended the Salon International de la Lingerie in Paris for the first time last month. Paris is the center of the fashion world, and lingerie is no exception. Many of my favorite European brands never make it 'across the pond' to attend American tradeshows, and so I was really really excited to report on a different aspect of the lingerie industry for my readers.
So imagine my surprise when three of the first booths I went to --- Cadolle, Aubade, and Huit --- flatly told me to leave because I was a blogger.
While that's a ridiculous thing to say to any blogger, the ignorance behind that statement really comes to light when you consider how much The Lingerie Addict has grown over the last year. We reached our 1 millionth visitor last month, had over 90,000 unique visitors in January, and were recently featured on Today.com, The Daily Mail, and The Washington Post.
But here's the thing... even if we were smaller (and TLA was very small for a very long time), that's still an incredibly foolish thing to say. And here's why:
When you say you don't talk to bloggers, you're also saying you don't talk to our readers. You're saying that our readers don't matter to you, that they're unimportant to you, and that they're beneath your notice. Even more importantly, you're saying you don't want our readers to buy your products. And maybe I'm weird, but I don't usually buy from companies who go out of their way to tell me how much I don't matter.
Because bloggers matter. We have reach... and I'm not just talking about myself. The influence of the average lingerie blogger far surpasses the influence of average lingerie trade journal on every major indicator of success --- visitors, page views, comments, Alexa ranking, Pagerank, Twitter followers, Facebook fans... the list goes on.
I don't want to come across like I'm disparaging trade journals, because I'm not. They absolutely have their purpose. However, I'm bringing them up because all the lingerie journals at the Salon were welcomed with open arms in all the booths I was rejected at (which, of course, isn't their fault). And then I have to ask, when was the last time you learned about a new lingerie brand through a trade journal? Unless you're in the industry, probably never. Print media, of any kind, is no longer the only, best, or most effective way to reach people.
Because bloggers have influence. Now, I didn't go to business school, and I don't have an MBA. But it seems to me like brands should want to talk to the people who talk to the people who want to buy your products. Marketing types call it "word of mouth marketing." I call it "buying stuff because my friend told me it was awesome," and I trust my friends over press releases any day of the week. Attention is a rare commodity. The best brands take advantage of it when they have it, not when it's convenient to them.
"But the internet!" some brands say, "We want to control our brand messaging and bloggers are too unpredictable and they have opinions we don't get to pre-approve and what if they say something different from what we told them to say?"

My response? Get over it. Your brand isn't what your PR team says it is. It never was. Your brand is what other people think it is. So focus more on the good impression making with every point of contact... not just the people who've been specifically hired to talk to the public. And if you're worried that bloggers are going to publish photos from your newest collection too soon (which is the excuse several people gave me on Twitter for Cadolle, Aubade and Huit's behavior), just ask us not to. I promise we'll understand.
Because bloggers are here to stay. More lingerie blogs have been started in the last 18 months than in the last four years (that's how long I've been blogging). More and more people are going to the internet to research brands, read product reviews, and get lingerie advice. And guess who they're going to? The lingerie bloggers.
But if all this doesn't convince you, just take a look at the success of brands who've taken bloggers seriously. Curvy Kate literally came out of nowhere to become THE full bust brand for thousands of women. Another lingerie designer, Ewa Michalak, is suddenly on everyone's radar precisely because bloggers talked about her first. Boutiques like Hips and Curves and Faire Frou Frou have built up amazingly loyal fanbases (many of whom are also customers) through blogging and connecting with others bloggers. And Kiss Me Deadly will tell anyone who asks that lingerie bloggers are her top referrers month after month.
Several people told me I should just say I'm a lingerie website or a lingerie magazine or even a lingerie trade journal myself. But I'm not ashamed of being a lingerie blogger. And if your brand doesn't know what a blogger is, your brand fails at the internet.
The rules of business haven't changed. You either keep up or you get left behind. And a few years from now, we'll know exactly who did what.
Last Updated on