Designing Lingerie for Mature Women: Advice for the Intimates Industry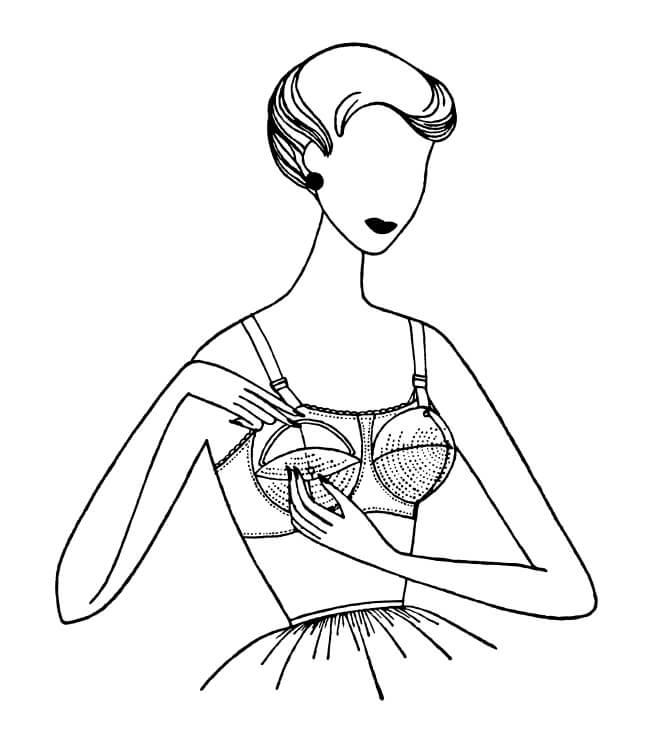 Today's guest post comes from Gayle, a long-time reader who wrote me last week to ask about lingerie companies that cater to more mature women. While I 100% agree that women of all ages deserve gorgeous lingerie, I genuinely didn't know how to write about lingerie from a baby boomer's perspective. After a bit of conversation on the topic, I invited Gayle to share her point of view on the blog, and she graciously agreed. Below is her post, unfiltered and unedited.
Many years ago, I had read when a woman becomes a "certain age" they become invisible as a woman. We are thought of as grandmothers, an old married women, or the old lady down the block.
Ok, I am the first to admit that I own a number of flannel nightgowns and fleece robes, which is a necessity with our winters here in the Midwest, but I also have a nice collection of lingerie and loungewear. Personally I am NOT ready for a seersucker house dress, a tropical Mumu or shapeless gray pajamas. I refuse to wear sweats and yoga wear!
Over the years my reasons for owning lingerie have changed from looking tempting and sexy to wanting to look attractive, elegant, and be comfortable. I have always worn lingerie for me, for how it made me feel. Even when I am alone, wearing lingerie gives me an ego boost. When I entertain my lover on a Saturday night, I want to wear loungewear or lingerie that is feminine and comfortable. On lazy afternoons I love to curl up on my chaise with a glass of wine or cup of coffee and my Nook. I want to pretend I am a lady of leisure and feel elegant and attractive just for me.
In the last few years designers have gone retro with girdles, panties, bras, and other shape wear, but I am not seeing this trend carry through with robes, gowns, and loungewear...at least ones that are affordable for many of us. For inspiration, look at movies from the 40's and 50's or even the I Love Lucy Show. You will see feminine and classy designs with "coverage" and great detailing. In the 70's we had wonderful "at home" wear for entertaining and lounging at home. It reminds us boomers of simpler and more glamorous times. In this economy it would be a real boost!
Although many of us Boomers are in pretty good shape, we are fighting gravity and gravity is winning. Many of us are a bit round in the middle, have cellulite on the back of our thighs, a few varicose veins, and upper arms that jiggle. Lingerie and lounge wear needs to accent our assets and covers the flaws.
This is what I have to say to the designers who are interested in marketing to my generation--
• Please forget the spaghetti straps. Give me straps that are going to look in proportion to my size. When I was a size 8 they were sexy, but now they are just puny-looking and disproportionate on my size 12 gown or chemise.
• Please skip the little cap or a short flutter sleeves because those styles accent the bit of meat on my upper arms. A fuller sleeve that comes to the middle of the upper arm would also hide the under arm jiggles. A little lace jacket to go over a bare top would be wonderful, but please make the girth of the sleeves big enough around so my arm does not look like a sausage stuffed into a casing.
• Shortie nightgowns that come to mid-thigh to cover the cellulite on the back of my thighs would be nice. By the way, what has happened to long gowns, as I have found very few? If you are putting a slit in a long gown, please make it only to mid-thigh, I want to be able to sit without everything showing.
• Please do not insult me with adding a thong to my garment to make it a 2 piece set. A boy short or something a little more substantial would be nice, or maybe just forget it.
• If you are going to use lace for the whole gown, lining it with flesh colored fabric to just give the illusion of nudity. Of course this would mean needing a few flesh tone hues of lining, as it needs to be a believable illusion!
• How about putting the accents on the neckline or hemline to draw away from the midsection for those of us who have an ample middle? Personally, I think a diagonal ruching in the middle is a nice touch to disguise the tummy. Layered fabrics and different length hemlines can be very flirty and feminine. I don't need a plunging neckline, but one that is interesting, like a sweetheart neckline which is always attractive.
Vintage lingerie patterns
• Is it possible to put a bit of support in the tops for my boobs which are slowly going south?
• I am a redhead with fair, freckled skin, and I have never liked pastels, whites, or ivories. At my age I am far from virginal or naïve, so the little girl colors do not do a thing for me. I am tired of red and black as the alternatives. I would love something vibrant or royal to go with my personality and maturity. How about navy, amethyst, teal, deep green, other jewel tones or turquoise, coral…something with a little color? I have sewn for over 45+years and many times made my own lingerie because I could not find the right color.
This is an Amoureuse gown, with nice length sleeves and color!
• Please design a robe with some shape. Forgive me, but I bought my maternity clothes from the tent and awning company, and most robes remind me of them! How about princess seaming or set in belt and skirt on a bodice? I would like something that will make me feel feminine and attractive, not pregnant. A robe with a stand up collar looks wonderful as it accents the face and is very classy and elegant.
Ladies of my era were taught that leaving a lot to the imagination was sexier and more tempting than showing it all. Did the men of my era have better imaginations? Please keep this in mind when designing for the mature woman.
There are designers I adore as: Liliana Casanova, Jenny Packham, Claire Pettibone and Carine Gilson to name a few, but of course, most of us can't afford their garments. By using bits and pieces of different collections, I could put together what I am longing to add to my collection. Is it too difficult to believe, that we mature women are still looking for affordable lingerie and loungewear that makes us feel attractive, confident, elegant and maybe even a bit alluring?
Top image of Carmen Dell'Orefice via Elle UK