How to Buy a Garter Belt
Editor's Note: Prefer video instead? Check out the TLA - "How to Buy a Garter Belt."
This post was inspired by a conversation I had with a friend over wine and cheese (or, in my case, tea and cheese) about what kinds of stockings and garter belts are good for a novice to buy. Though neither of us is new to hosiery, a friend of hers is, and unfortunately, she'd received a bit of misinformation from other sources...at least in my opinion.
Her question got me to thinking...what is important when it comes to buying stockings, garter belts, and other hosiery related items (like girdles or tights)? What should you look for? Who should you buy from? Is there a certain way you should wear your purchases? I may not be able to address all those questions in this post, but I'll try to cover a few.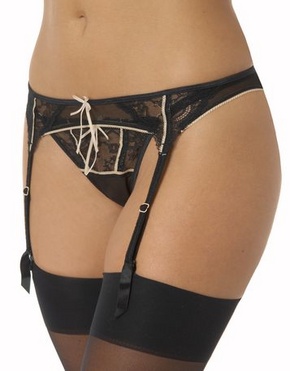 "Why do I want these?"
Not only is this the very first question you should ask, it's also the most important because the kind of garment you purchase is determined by its purpose.
For example, if you only want a garter belt to wear in the bedroom then a simple, four strap model, with a thin belt, thin garters, and one or no adjusters may suffice (example to the left). After all, you're not likely to wear it for more than a few minutes.
However, if you're buying a garter belt to wear stockings on a daily basis, or have reason to believe you'll be in your stockings for an hour or more, or will need to do anything remotely physical while wearing stockings (like walking), then four straps just won't do. If you want maximum support and maximum comfort, you'll need at least six, wide, elastic, adjustable garters straps with a wide garter belt that has at least three hook and eye adjusters at back. Some people prefer the security of eight garter straps. A few even like ten. When it gets that high though, you're getting into the realm of fetish and that's not what this particular post is about.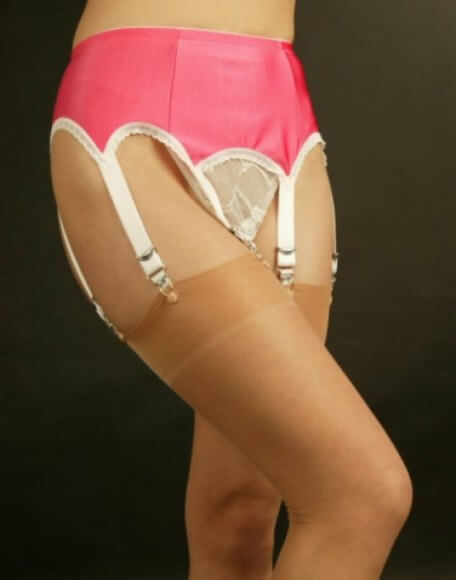 Why does the width of the belt and the number of the straps matter?
Put simply, because your stockings are always trying to fall. Even if you don't think they're about to fall, believe me, they're trying to. Having more straps not only provides more anchoring points on the nylons to hold them up, they also keep your stockings from twisting, wrinkling, and bunching.
Having straight stockings is not only more aesthetically pleasing (particularly in the case of backseam hosiery), it also prevents unnecessary wear and tear of the fine, nylon threads. The wide garter belt gives the garter straps something firm to hang on to and provides countertension against gravity.
Adjustability is important because garter belts which are too large or too small do a poorer job of supporting the garter straps which anchor the hose. A too small garter belt could pinch your belly after extended wear, resulting in discomfort. A too large garter belt might work its way down your hips as the day goes on. In other words, please don't underestimate the importance of good fit.
Whew...I've already typed more than I thought I would! I think I'll address one more part of the garter belt question and talk about stockings in a separate post.
What material should your garter belt be made of?
I don't have to tell you that people make garter belts out of lots of materials among which are satin, cotton, powernet, lace, vinyl, leather, faux fur, nylon, and so on. If your garter belt is just for the bedroom, then go right ahead and get that leather 12-strap contraption with the leopard fur and diamante accents.
But if you plan on wearing your garter belt for awhile, and especially if this is your first one, then I highly recommend purchasing a simple belt made from nonstretch satin, powernet, or even cotton. Not only will those materials last longer against your skin (let's not be dainty--people sweat), they'll also be more comfortable and allow those intimate areas to "breathe."
I won't lie. Good, quality garter belts cost a bit of money, but I'd much rather buy one $40 garter belt and have it for years, than four $10 ones that I have to throw away after one wear.
How about you? What do you look for in a garter belt?