Disclosure: I received these products free of charge for review purposes. All opinions are my own.
Anita is a European brand with a long history – 127 years, in fact.  They have five lines (the better to specialize with, my dear!), from athletic to full figured to maternity (launched in 1960!) and even a post-mastectomy line, called Anita care.  Anita is a company with an impressive history and it's wonderful that even their specialization dates back several decades.  Today I'll be looking at what is probably their most versatile line: Rosa Faia.
Rosa Faia makes both swimwear and lingerie, and the Anita representative with whom I spoke was kind enough to send me four bras and two pairs of panties so I could explore the range of the line.  At a glance the style offerings are fairly basic, but each style set (from "Aurelia" to "Scarlett") has its own signature detailing and the result comes through as classic more so than plain.  The color offerings are also classic and versatile: mostly black and white or beige, with the occasional dusky lilac or mocha.  Price-wise, the bras average about $70.
Size-wise, Rosa Faia has a pretty good range: bands from 32-42, and cups often run from B-G.  I was sent bras in a 32C, which I found fit fairly true to size.  (Americans may wish to add a cup size when sizing themselves; I don't recommend the sizing assistant on their website.)  I found the cups to fit a bit on the narrow-and-deep side, better suited for a "pointier" breast shape than my own.  The silhouette under clothing was really uplifted and flattering.  The top of the band seemed a bit peculiarly snug, though, which made me a bit self conscious about the soft flesh around my shoulder blades even though the band was technically a size too large for me.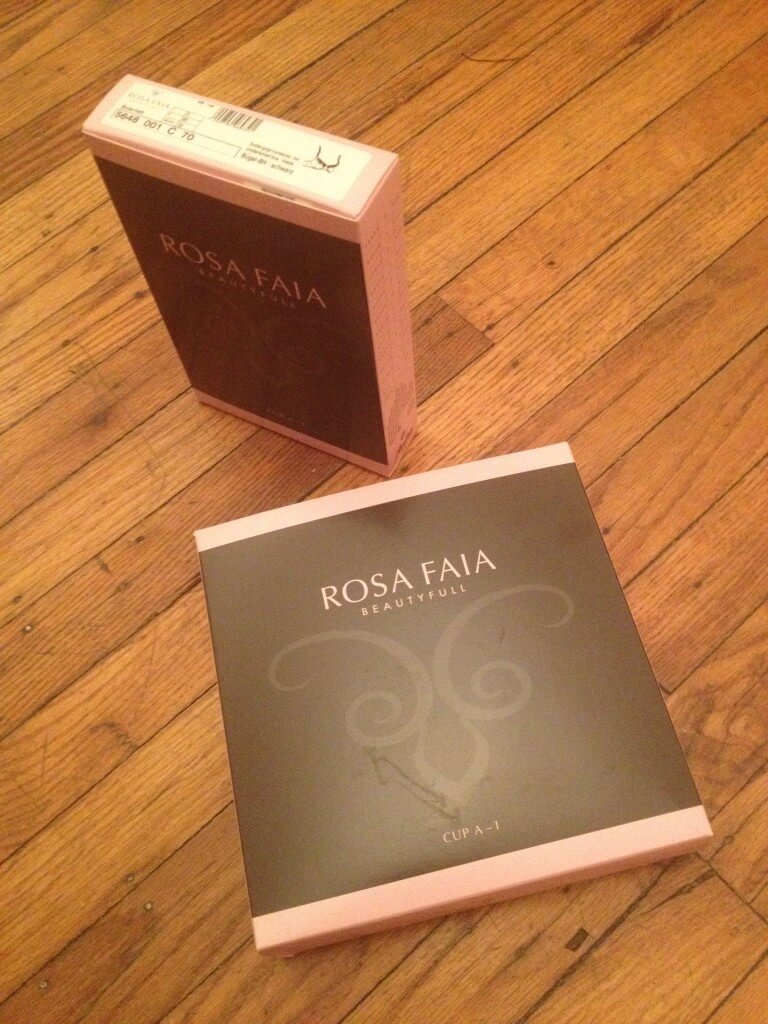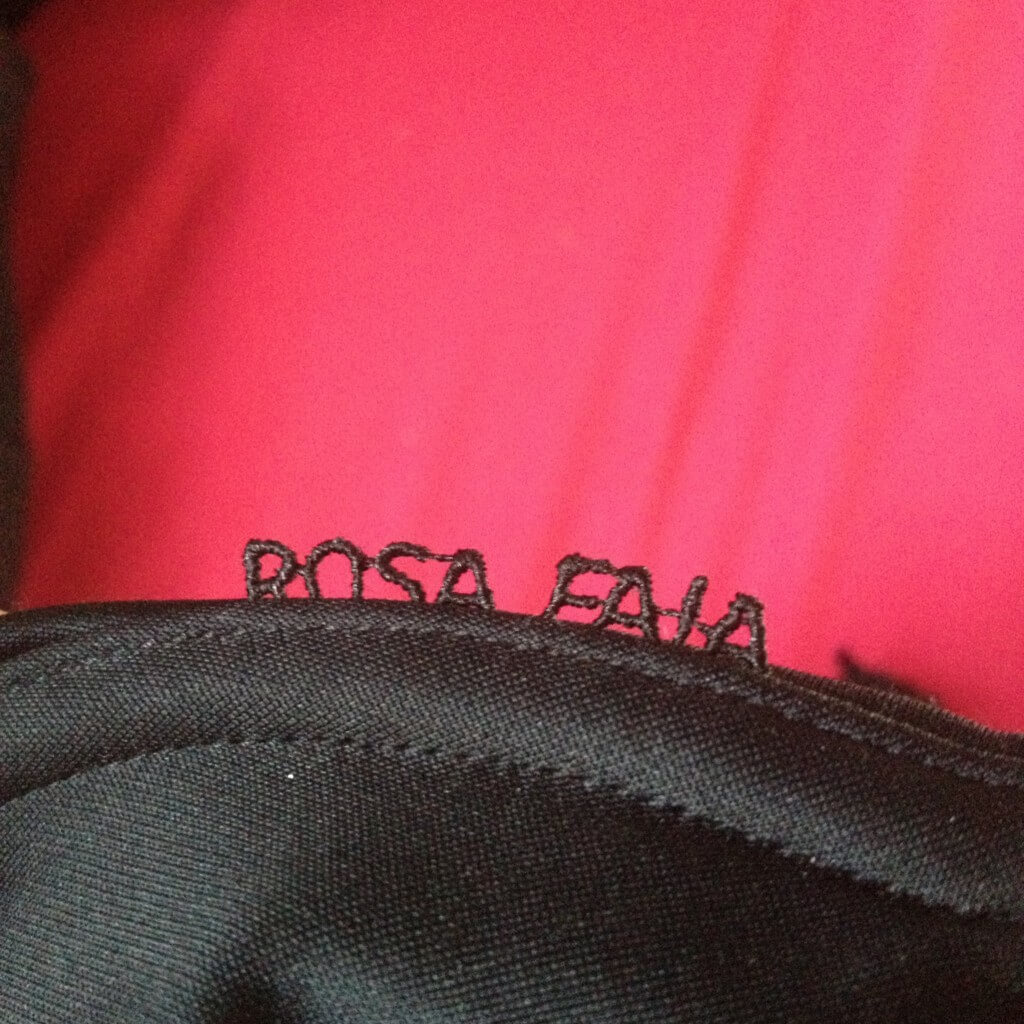 Each piece arrived in its own little pink Rosa Faia box, which was very cute and also instilled a bit of a sense of security about the bras' safety during transit.  As soon as I opened the boxes, I was immediately impressed by the quality of materials and construction.  The quality control standards are clearly very high; all the stitching was very tidy.  I love how the Rosa Faia name in lace delicately emerged from the edge of the cup, it's a beautifully subtle branding touch.
Now let's talk for a minute about each style, starting with the Scarlett Underwired bra with lace, which I was sent in two colors.  As I mentioned, I found the silhouette to be uplifting and flattering, even though the bra is a fairly lightweight tailored style.  It has a 3-part cup, the top piece of which is an embroidered mesh lace.  The horizontal seam is a bit above the nipple line for fairly modest coverage.  The straps are about half an inch wide with corresponding embroidery detail and miniature bows where they attach.  There's a little inside pocket for a bust pad if you so desire.  The dusty rose color way was rather versatile – it's really more of a mocha shade.  I found the underwire to be pretty comfortable.
Next up, the Scarlett Underwired bra with molded cups!  I received this bra in "purple haze," along with a matching panty.  The molded cups are made from "spacer fabric," which I learned is A Big Deal when I opened the box at work where I have all my packages sent.  Apparently this fabric holds its shape much better than traditional molded cup bras and has many other amazing qualities.  The spacer material is pretty thin, at perhaps an eighth of an inch thick.  It's not a push up bra; there is no additional padding at the bottom of the cup.  For as lightweight as it is, it is a pretty good shield against admitting you have nipples, though not a perfect one.  For whatever reason, I personally don't find myself wearing this bra as much.  Could be the purple, but it's more likely the way the underwire tends to press on my most prominent rib by the end of the day.  In my hands the underwire feels pretty much the same as the previous bra so I'm not sure why this is and it may just be a fluke.
Finally, in bra land, the Lace Rose Soft Bra.  I'm really into bralettes and I have to say this is definitely the most supportive and shapely one I've worn so far.  It's much more tailored and sized more specifically: 32-42 band, B-F cup, rather than the S-M-L format of most bralettes.  Corresponding to the increase in support, it does have more coverage.
As for the matching panties, I absolutely love the Lace Rose Panty Girdle.  It's not really what I would describe as a panty girdle, but rather a classic firm high waist style.  The tone on tone detailing is subtle but pretty; the cut hits just on the natural waist (you know I love it) with a hint of cheekiness in the rear.  The waistband has just the right amount of tension, although I'm not quite sure I understand the sizing: I have a 26″ waist and 38″ hip these days, and I was sent a US size 8 – that's definitely not the US sizing I'm used to!  My favorite part, though, is the way the legline is finished by cutting a horizontal fabric panel on the fold, which means that the legline lays incredibly smoothly and comfortably without cutting in.  All told, this is probably my favorite piece from what I was sent.
The other panty I was sent was the Scarlett High-Waist Brief in "purple haze," to match the spacer bra.  It's really more of a mid-rise style, sitting close to the top of the hip bones.  On me, this cut isn't particularly flattering, but if you aren't into the low-rise thing or have a long pelvis it could be great for you.  The stretch in the fabric is pretty firm so it could also be good for a lightweight control style – no fear of saggy panties here!  Again, I was really impressed with the quality of construction.  At the lace inset on the princess line, the solid fabric has been cut to cleanly match the scalloped lace edge.  The crotch piece is an extension of the front panel, but the corresponding lining has been bound rather than simply overlocked.
Are you familiar with the Rosa Faia line?  Have you tried any of Anita's other lines?  Share your experiences in the comments below!