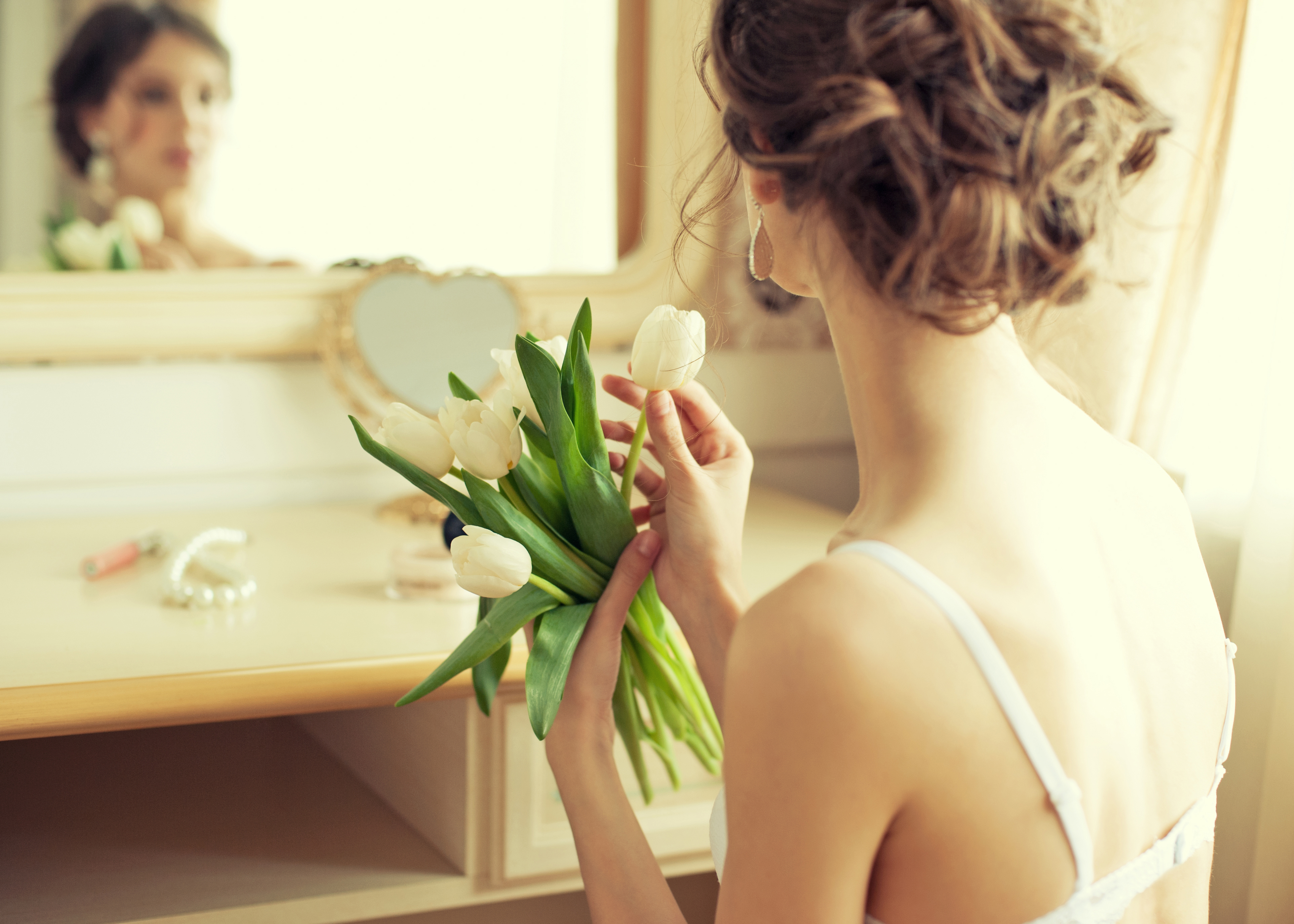 At last! It's been slow-going but spring has finally reared its gorgeous head in New York energizing its weary inhabitants with abundant sunshine & vibrant greenery. Windows are being propped opened, birds are chirping & colorful flowers are sprouting up after a long winters nap through out the city.
Flowers have an ability to lift the spirits & lend beauty to their surroundings. They are a feminine symbol of life, hope & love, exchanged as a significant gesture or to mark a special occasion. There are few things more inspiring then a vibrantly colored flower with its pristine petals & sculptural delicacy. Just look at the works of Georgia O'Keeffe, Claude Monet & Vincent Van Gogh to name a few. However the reach of their beauty doesn't stop there. It extends into poetry, architecture & fashion as well. Fashion designers have long used flowers as a source of inspiration for their clothing due to their rich natural colors, elegant shapes & feelings they invoke which can be both personal and profound. And what better place to lend inspiration than to the sensual world of lingerie where femininity is most celebrated and supported?
As I studied this season's collections from some of my favorite lingerie labels & designers I was struck by how many beautifully crafted styles seem to parallel some of my favorite species of flower whether in color, shape or texture. Below are 8 styles where I felt the correlation was most pronounced. Whether flowers actually served as the inspirations for these designers or not, I appreciate their resemblance and the special feelings these styles conjure up for me.
Carnations are known to be one of the top selling flowers in the US today with the pink variations vying for first place. This popular flower signifies eternal & unforgettable love and is most widely given for Mother's Day. The elaborate rippling petals and sweet smell lend this gift-giving flower feminine & nurturing characteristics. Similarly the Peplum set from Made By Niki emulates this lush foliage with fluttering ruffles accented in satin ribbon. I find the layered sheer silk gives the illusion of carnation petals while the Barbie pink color is spot on.
The Black Dahlia is a rare & mysterious species of flower symbolizing mystery & elegance. Though not fully black in color, the dark burgundy versions are as close as a flower can naturally get to true black. Characterized by its rings of petals this flower is most famed as being a nickname to the infamous unsolved murder mystery of Hollywood starlet Elizabeth Short. However this Bisou Bisou Kiss set from Mimi Holliday is much less gruesome with its rich burgundy satin complimented by delicate black eyelash lace. Both the color & layering effect together make this set as sensual & mysterious as the illusive flower.
Colorful pansies are known as flowers of togetherness & remembrance. Derived from the French word "pensée" meaning "thought", the markings on these flowers resemble human faces deep in thought as they tilt downwards in the later months of the season. The color combinations of the pansy tend to be vibrant & contrasting similar to the Dessous set by Claudette in navy & limeade. As with the pansy, Claudette's Dessous collection comes in an array of cheery colors & prints with contrasting details & delicate, thoughtful curves.
One of the most exotic flowers today is the bird of paradise found in tropical climates around the world. Native to South Africa this unique flower is characterized by its fan-like horizontal foliage and vibrant color ranging from deep red to yellow & orange. The bird of paradise is also known as the crane flower and has long been considered a symbol of liberty and magnificence. Coincidentally this Nenah set by Lascivious not only utilizes similar coloring but also is reminiscent of the bird of paradise flower with its origami-like folds & triangular layering.
One of the more notable signs of spring each year is the bloom of the vigilant daffodil. This annual flower is a symbol of hope, faith & forgiveness appropriate for it's following of the harshest signs of winter year after year. The most common color of golden yellow is reminiscent of the sun's brilliant rays and the trumped-shaped center and leafless stem make this flower a cheerful favorite for gardeners. While the color yellow has been a slow growing trend in lingerie, Fleur Of England has managed to take it to a higher level with their elegant & sunshiny Lemon Cello collection. This rare shade looks fresh & new in these luxurious fabrics & is guaranteed to brighten your day.
A persevering symbol of endurance and durability is the faithful dogwood flower reliably blooming in clusters of white or pale pinks & yellows. Not too showy these woody flowers have also been used to symbolize love undivided by adversity. La Perla has utilized similar shaped floral embroidery on their Donna Lucia collection featuring delicate white blossoms strategically placed on delicate flesh colored tulle. These embellishments offer a soft dainty feeling with contrasting characteristics of strength & durability – similar to this proud dogwood flower.
The lily is a flower full of meaningful symbolism often signifying birth or new motherhood. It is the perfect flower to send new mothers as well as new brides as it can also be seen as a symbol of union and partnership. Their intoxicating fragrance helps lend them an heir of beauty, poise & symbolism making this flower a favorite for social gatherings. The Eva set by Absolutely Pom is reminiscent of a stargazer lily with its pure white ground and delicate red ruffles. The organic print is dotted with little red flowers lending it a feminine yet bold look, a perfect compliment to the majestic lily.
The elegant lotus flower is revered for its purity and expression of cosmic renewal. An auspicious symbol in many Asian cultures the lotus is a symbol of eternal beauty springing up from the mud it grows from. As the lotus blooms its many petals expand outward, suggesting an expansion of the soul & making this flower one of the most sacred in the culture. Likewise the Cabana set from Ari Dein resembles the lotus in its pale bluish hue, silky smooth fabric and hand scalloped hemline trimmed in ivory. The set's fine quality makes it as beautiful, light and pure as the delicate lotus itself.
Which flower do you find most inspiring and what does it mean to you?