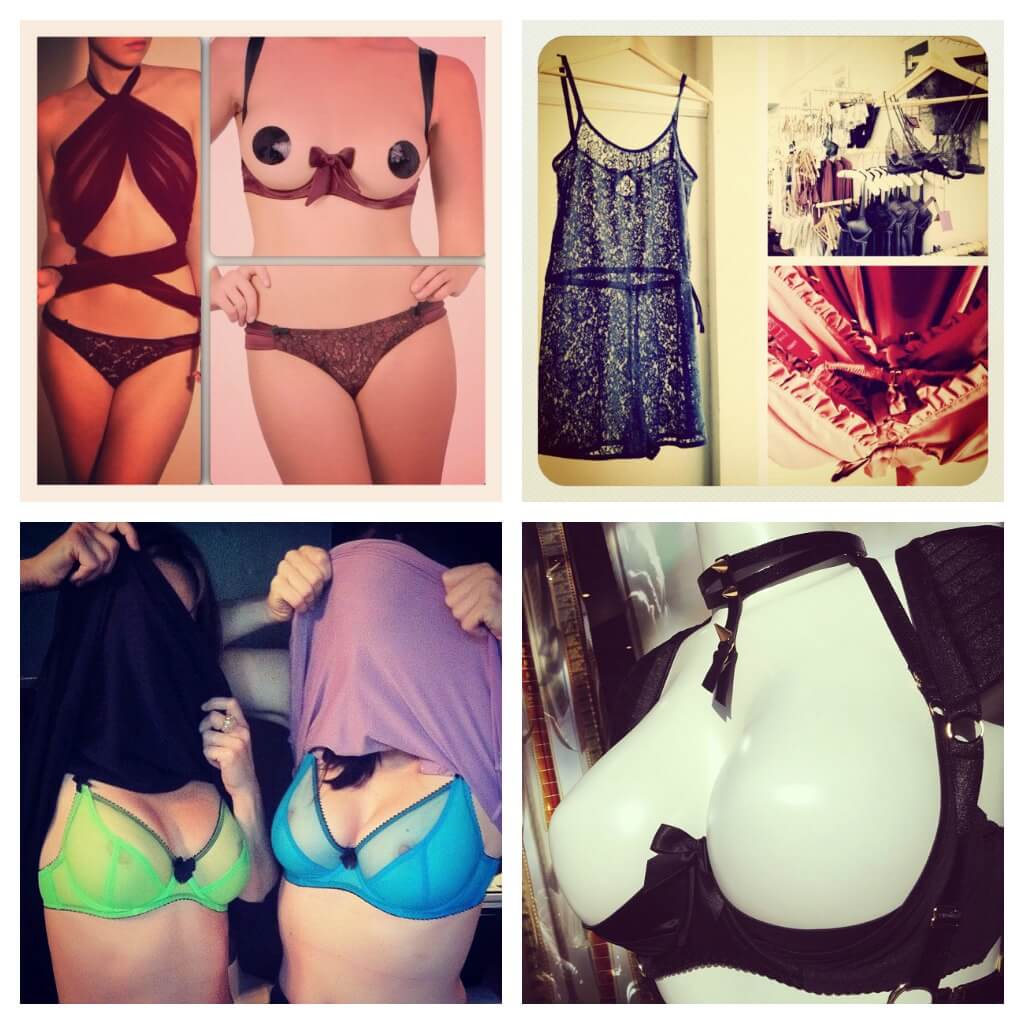 As per my post in August, 8 Corsetieres to Follow on Instagram, I am obsessed with, and addicted to, Instagram.  Since I've been having no end of computer troubles lately, needless to say, my dependency on my phone (and Instagram) hasn't abated. 
This month's post features a whopping 15 retailers posting daily pretties, providing insight to styles, trends, merchandising, photoshoots, and other behind-the-scenes action.  With a lot of ground to cover, I'll mostly let the users' photos (and, where provided, bios) speak for themselves.  As before, if you don't have the app, Webstagram links are provided for your viewing pleasure.
@coco_de_meruk
Coco de Mer – http://www.coco-de-mer.com/
@derrieredesoie
derriere de soie cville – www.silkybottom.com
@devilmaycarelingerie
Anastasia – Lingerie loving sisters in upstate NY hand-picking life's necessary indulgences for you. Devil May Care: It's a state of mind… xx!
@fairefroufrou
Alison Rubke – Owner of luxury lingerie boutique Faire Frou Frou & blog Frou Frou Fashionista
@figleaveshome
The ultimate online destination for your lingerie, swimwear, shapewear & nightwear needs. Boasting cup sizes AA – K.
@fortywinks
Meredith Donaldson – http://www.shopfortywinks.com
@journellelingerie
Journelle Lingerie – Lingerie enthusiasts and connoisseurs offering lingerie for the modern women.
@lapetitecoquettenyc
It's Time to STOP wearing underwear and START wearing Lingerie!
@lilleboutique
Lille Boutique – Lover of fine lingerie, kabuki, silk stockings, ballet, vintage kimonos, high heels, art deco, literary heroines, new wave cinema & all things French.
@lineaintimalingerie
Linea Intima – Renowned for expert bra-fitting consultations & a selection of the most sought after lingerie brands from around the world. Sizes from 30-44, A-I.
@madamebordello
From London's finest Lingerie Boutique in Shoreditch to private Bethnal Green Showroom.
@mylingeriestylist
Bex – Professional lingerie stylist & owner of The Fitting Room. I specialize in bra fittings & foundations, as well as bridal, event and styling services. Note: I know, she's not a retailer, but My Lingerie Stylist made more sense on this list than any others I have planned.
@secretsfromyoursister
Toronto's best bra fitting boutique.
@whatkatiedidldn
What Katie Did London Boutique - Faux vintage lingerie, corsets & nylons inspired by the silver screen sirens of the 40′s & 50′s in the heart of Portobello Road – London UK.
@shopcosabella
Official Cosabella
And there you have it!  A veritable tour de force of lingerie boutiques on Instagram.  Keep reading my articles here on The Lingerie Addict for Instagram revues of lingerie designers, more corsetieres, and pinup girls. 
What'd you think?  Who's feed is your favorite?  Did I miss someone?  Please share your thoughts in the comments!