I've always had a bit of a fascination with the macabre. Maybe it's the departure from my usual world of flowers, rainbows and kittens, or maybe it's the enticing allure of the unknown. Perhaps it's that magical power that stirs up our dark imaginations and allows us to subject ourselves to frightening horror films, spooky ghost stories and gruesome images. Either way, if you are like me then you enjoy a little morbid indulgence from time to time and possibly find yourself drawn to it's influence in fashion and lingerie as I do.
It's no coincidence that I'm writing this a few weeks before Halloween, that one day of the year that we allow ourselves to be whomever we wish for the night. Whether it be showing off our assets in ways we would never dream of elsewise or entertaining our most uncharacteristic hidden fetishes, it is the one day where we can publicy expose those fantasies without judgement or ridicule from others.
Macabre fashion also happens to be trending right now with zombies, vampires and warewolves all the rage thanks to the expanding crop of teen franchise sagas taking over our media. Can you remember any other time when the undead was so mainstream and so cool?
Lingerie too has been influenced by the macabre for years and in many different ways. From the beautiful yet horrifyingly torturous Victorian corsets of the 19th century to the BDSM bondage wear of today (think harnesses, catsuits and restraints), lingerie can offer an indulgent yet private outlet to safely display one's dark side within the confines of one's own limitations.
To celebrate Halloween this year I'm allowing myself to sucomb to the dark side and yield to my more creepy obsessions. I may even take in the new Carrie flick, visit the Mütter Museum or venture into Times Scare to ring in the holiday this year. And to mark these somewhat daunting events, I've decided to treat myself to a spooky new update to my lingerie collection. With all the choices out there right now the options are endless but unfortunately my budget is not, so I have narrowed it down to my top 12 picks for 2013's most sinister lingerie.
1. Horror Movie Monsters Corset by Emerald Angel
Emerald Angel offers a large selection of handmade alternative, goth and rockabilly clothing and accessories. Her Horror Movie Monsters underbust corset is a kitchy take on a sexy staple and is sure to bring a little humor into the boudoir.
2. The Nell Robe by Betty Blue's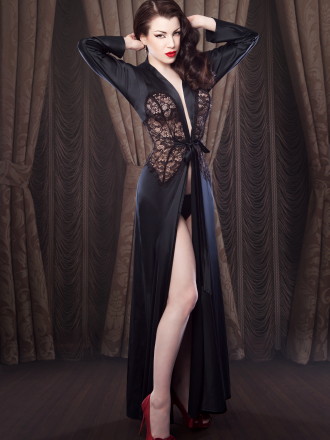 This über sexy robe by Betty Blue's Loungerie is sure to set hearts racing with its strategic lace inserts and sensual, draped fabric. Seductive and vampy, this robe screams femme fatale in the most luxurious and provocative way.
3. Pentagram Garter by Ideologia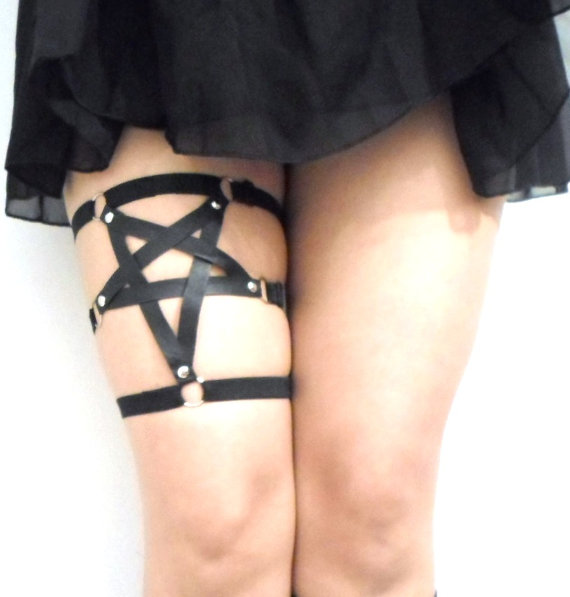 With fantasy-inspired fashion in style now it's no surprise that pentagons are popping up as a rebellious and alternatve symbol on clothing and accessories. Case in point is the Pentagram garter from Ideologia. This faux leather adornment is sexy yet edgy enough to be worn outside as a bold fashion statement if the mood should strike you.
4. Spider Web Bra from Kallisti by Mario Schwab for Asos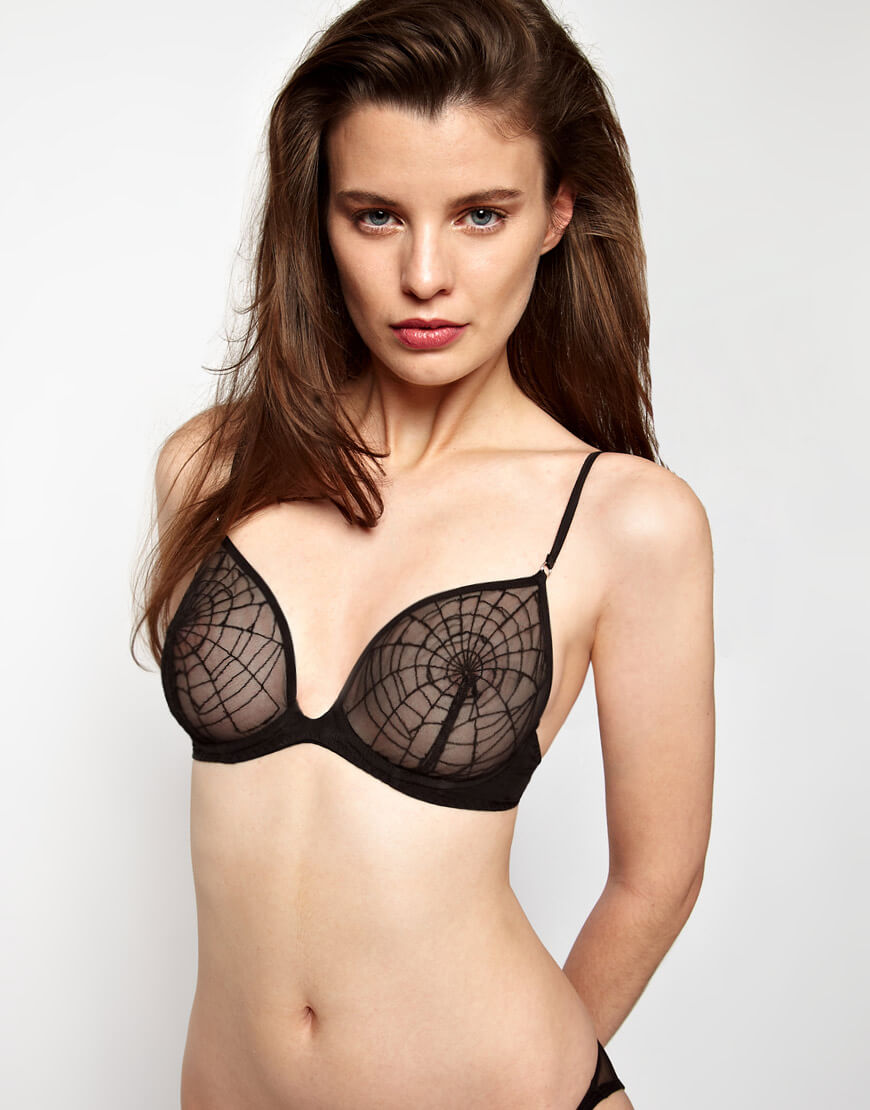 Mario Schwab's first lingerie collection for Asos has nailed the arachnophile look with this Spider Web underwire bra. The plunging, semi-sheer cups are seductively sinister and conjure up images of the Black Widow meticulously biding and stalking her prey.
5. Dem Guts Swimsuit by Black Milk Clothing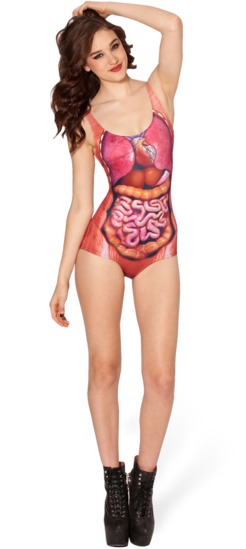 Cult label Black Milk is notorious for outfitting cool girls across the globe in their cutting-edge, realistic-looking printed spandex. For Halloween this year they are offering a collection of creepy and gruesome patterns including this anatomically correct guts one-piece, guaranteed to illicit a few double takes!
6. Striped Victorian Circus with Skeleton Cameo Corset by Louise Black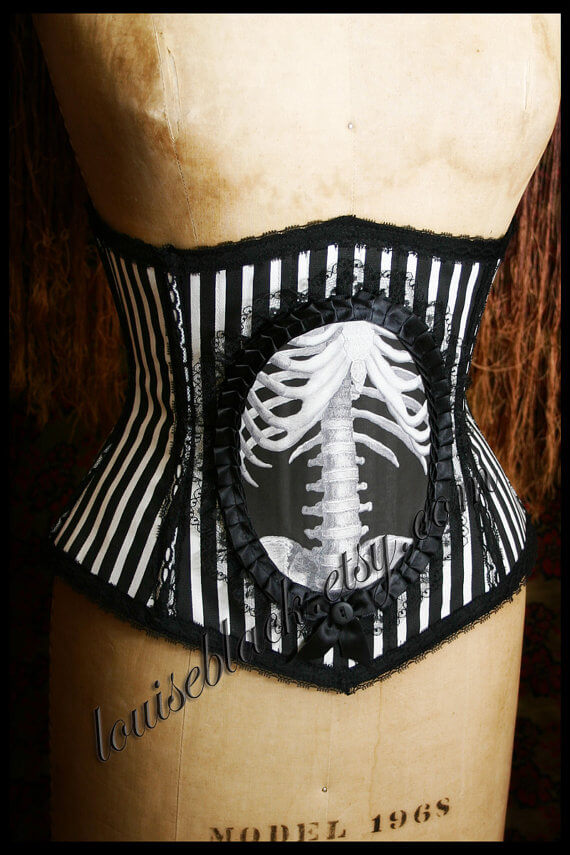 Louise Black's Etsy collection of steampunk corsets and jewelry is handmade and meticulously crafted with expert attention to detail as well as ominous elements such as this skeleton cameo. Flanked in ruffles and lace, the morbid image actually doesn't seem as ominous when combined with such feminine details.
7. Day of the Dead Sugar Skull Pasties from Bad Bunny Shop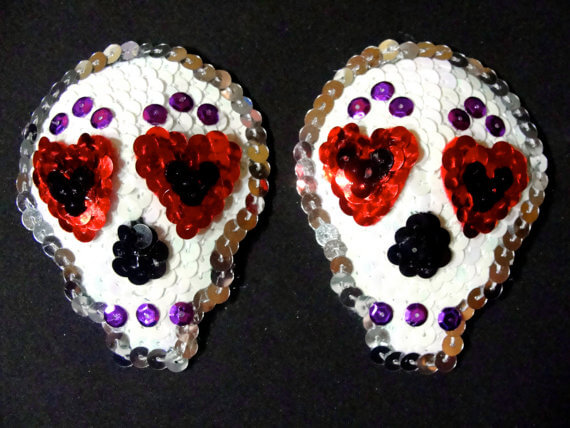 Etsy shop Bad Bunny stocks a unique mix of macabre accessories and burlesque paraphernalia including these sparkly Day of the Dead Sugar Skull pasties. Handmade with felt and sequins, each set is made to order and will add a bit of mischievous playfulness to any lingerie ensemble (or lack there of)!
8. The Jet Corset by Agent Provocateur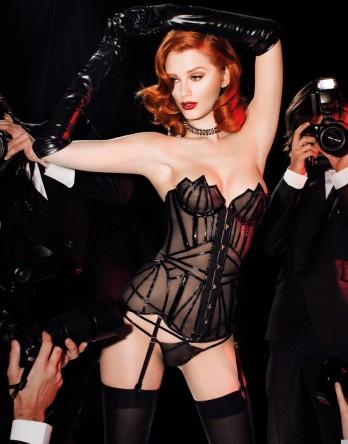 Agent Provocateur has done it again this season with new and innovative designs for the strong and sexy woman. This Jet Corset is especially intriguing with its armor like shell, PVC strapping and jagged neckline sure to be coveted by the likes of Morticia Adams, Vamporella and Elvira.
9. 4-Way Stretch Viynl Bodysuit from Lip Service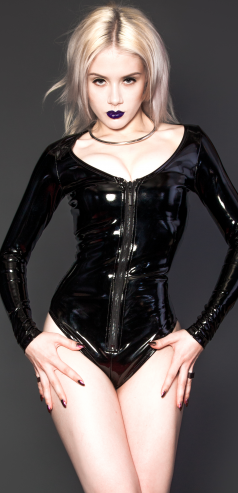 What's hotter then skin tight vinyl? Nothing when you've got this bodysuit on by gothic purveyer Lip Service! This sexy number looks like liquid latex as it hugs every contour and accentuates your most feminine curves and assets.
10. Pentagon Harness by Chromat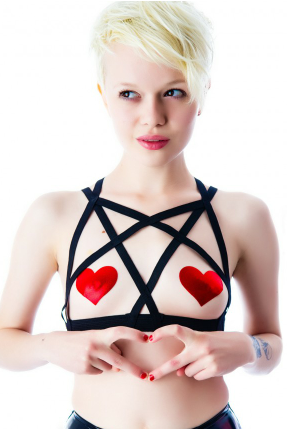 The obsession with avante-guarde label Chromat is spreading like wildfire across the fashion sphere yet many of their amazingly innovative designs are not necessarily wearable as an every day fashion item. However this Pentagram Harness is a sensible alternative with its adjustable elastic and unlimited layering potential to be worn either inside or outside closed doors.
11. Rose Vine Skeleton Skelly Pajamas by Too Fast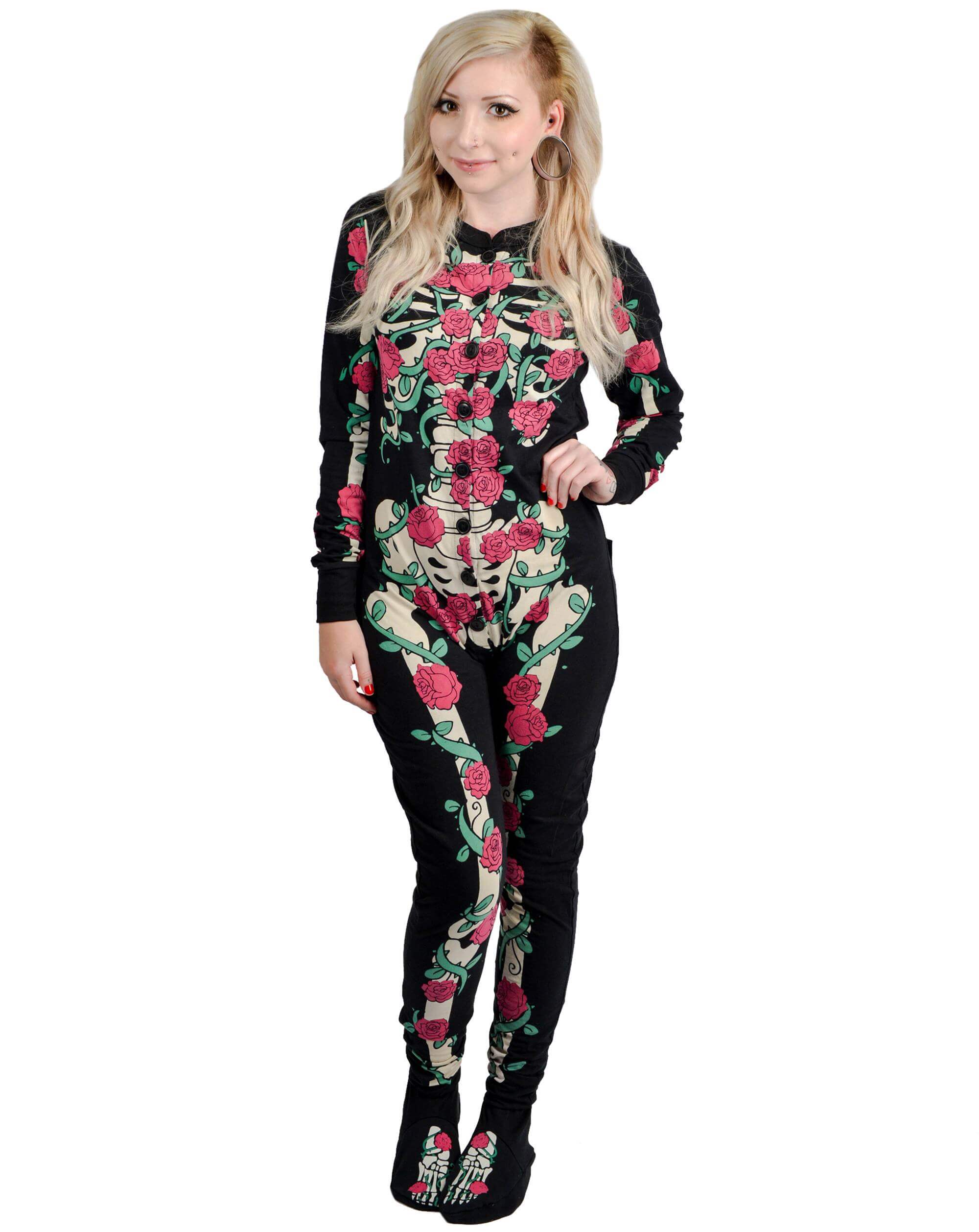 For those nostalgic for the footie pajamas of our youth, Too Fast has got you covered with adult size versions that are not only cute and cozy but edgy and alternative as well. The rose encircled, true-to-scale skeleton is printed on front and back while the convenient button flap in the back adds a cute and cheeky (pun intended) twist.
12. Zombie Sleep Mask at Fred Flare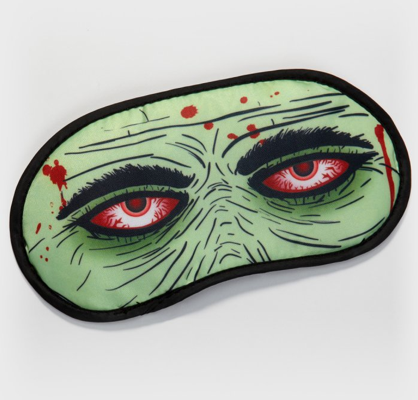 Is lack of sleep leaving you feeling like the undead? Keep the creepy going all night with the Zombie sleep mask from Fred Flare. Not only will you block the light out for a more restful sleep but you will also freak your bedroom buddy out at the same time. The perfect Halloween prank for those with a morbid sense of humor!
Which pieces are your favorite? Do you share an affintity for all things macabre?