Tattoo Stockings: The Ink That Never Was
Disclosure: This post contains affiliate links.
Today's guest post is by Scherrie Davis, who's new to the writing world but has a creative point of view. Here, she takes on one of the top trends for this summer: tattoo tights.
I remember getting my first tattoo like it was fifteen years ago… probably because it's been fifteen years since I crossed over into the ink world. I was 19 and a sophomore in college. After a relatively docile freshman year, my sophomore year proved to be more adventurous for me. Most notably, it marked the year I got my first tattoo.
Like many, I chose a small tattoo placed in an area of my body that wouldn't show my new ink unless I wanted others to see it. The fear of the needle mixed with the fear of the societal/family gaze influenced my choices of ink and placement that day.
Since then, however, I've learned to approach things from my point of view and what I want. I decide what I put on my body and skin. So now I choose things that will make me happy — not others. This was apparent in my next tattoo, which was much bolder and expressed more of who I am as a person.
Of course, I know tattoos aren't for everyone, but if you're a fan of ink like me, you're probably planning your next tattoo as we speak. You might even already have the design, color, and placement for it down. You're just waiting for the last remaining chip(s) to fall into place — funds, time, etc.
Fortunately, there is another option available to help soothe your hunger until you're able to get the ink done. That option would be tattoo stockings. Before researching this post, this is something I never knew existed, but I am delighted and tickled at the fact that it does. It's like hosiery and ink came together and had a sexy, artistic baby. These creations will surely provide that extra oomph to any outfit. Here are four of my favorite tattoo hosiery options that will allow anyone to fake it until they get someone else to make it.
Retro Flovers [sic] and Swallow Tattoo Tights by KellyAtLarge: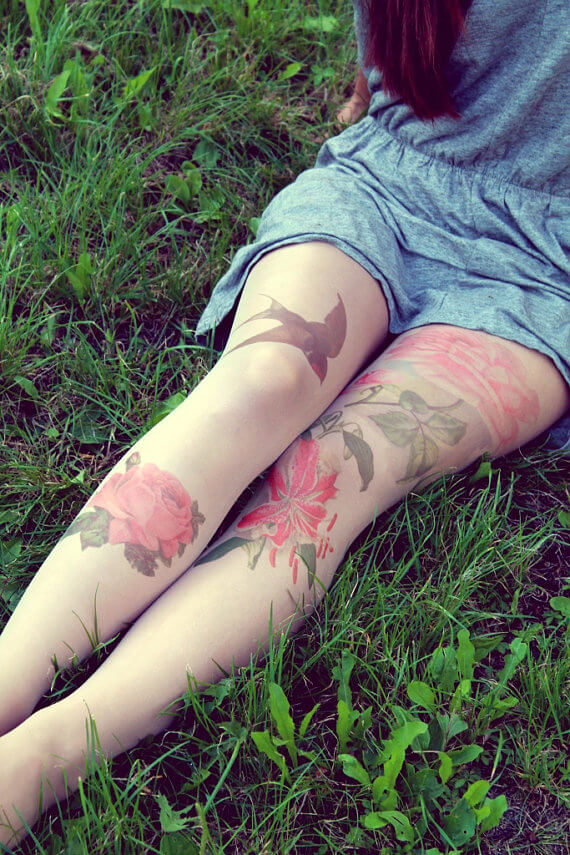 Polish designer KellyAtLarge brings us this tattooed tight creation where blossoms meet feathers. Adorned with roses, a stargazer lily, and a swallow, this bepetaled and winged convergence adds fun details to white tights. These tights would be perfectly styled with your favorite pair of jean shorts.
Tattoo Print Tights by Jonathan Aston: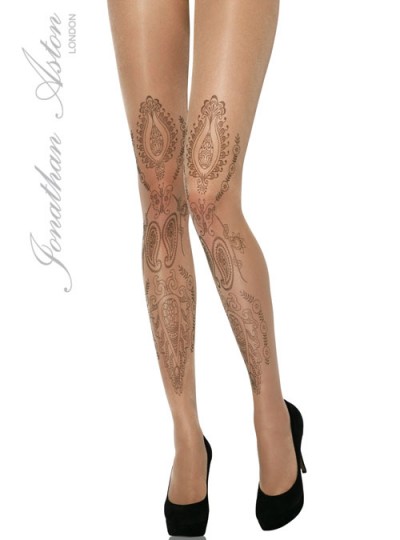 These sheer tattoo print designs come courtesy of UK hosiery designer Jonathan Aston. The background color for these tights is available in beige, black, or purple. The slight gloss they offer in addition to the designs helps make the wearer's legs stand out.
Lolita Corset Tattoo Tights by Tattoo Socks: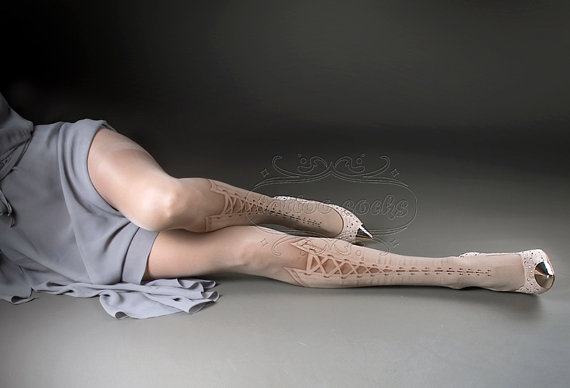 The 3D effect on these closed-toe tights provides the illusion of a corset made to shape your calves. They're sophisticated but with an edge. This handmade item also gives a bit of gothic flair for those of us who like subtle design. This is not a pattern you commonly see on tights, but it's certainly a pattern that most people would remember.
Warrior Princess Tattoo Tights by Tattoo Socks: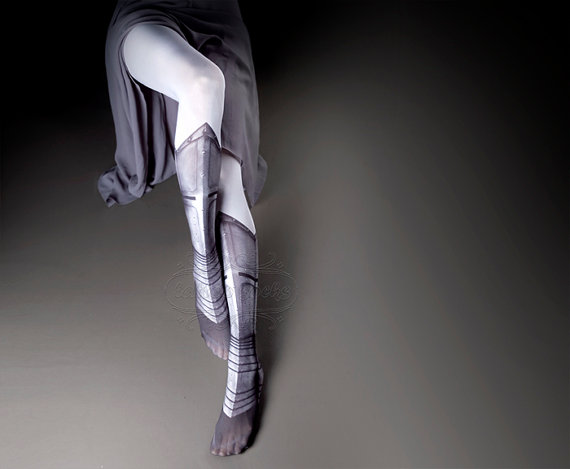 Cue the theme music to Xena. These full length white tights give armor detailing that encircles the shin and calves in gray, white, and black trompe l'oeil styling. Reminiscent of Medieval times, these tights are a fashionable take on armor. Now I just need a chakram.
These are just a few of the many tattoo stockings that are out there. Countless options are available to the inked and non-inked alike who wouldn't mind a temporary tattoo solution that can be taken off. Regardless of whether you plan to eventually get a tattoo or not, you may find yourself wanting to keep these items as a staple in your wardrobe. I already know I do.
What do you think of the tattoo tights trend? Is something you'd try? Or would you rather skip it?