Fashion-Forward Full Cup Swim Styles
Disclosure: This post contains affiliate links.
Happy Summer! I hope you are enjoying my favorite season of the year as much as I am. For me, I equate summer with barbecues, fireworks, popsicles, and of course, time spent by (or in!) the water. And that means only one thing — swimsuits!
While I have always loved this time of the year, I wasn't always satisfied with my swimwear options. As I mentioned in my previous post about finding the right bras for me, my journey to finding the right swimsuit was a parallel experience. I learned quickly that unlike my smaller or more "average" busted friends, I couldn't just go into my local Macy's or Target and pick out a cute and fun suit. I appreciated the efforts of the stores to include a range of sizes, but most suits were sized like clothes. And while a size 10 vs. size 8 dress could accommodate my bust line in a dress, in a swimsuit it was a different story. As I tried the 10, 12, L, and XL tops, something still wasn't right. I found the tops only accommodated a wider back and not a fuller cup. Needless to say, I was quite excited when I discovered many of the same brands that accommodated by bra needs also accommodated my swimsuit needs!
Over the past five summers since that discovery, I've accumulated so many darling suits from Freya, Panache, Aerin Rose, and, most recently Curvy Kate that nail both fit and fashion. It's encouraging to know that no matter what your size, there are great, on-trend swimwear options for you.
So as we are in the thick of yet another summer, here are some of my favorite trends of the season featuring full cup styles.
Which of the styles are your faves? Have you seen any other trends this season that are available in full cup styles? 
All styles below are available at Bare Necessities.com where there is currently free shipping on all swimwear. 
Florals
Quite possibly my favorite suit of the season is this stunner by Fantasie! The Kyoto collection features a coral colored background with delicate, purple blossoms. There are quite a range of styles, but the neckline of this twist bandeau top is amazingly flattering.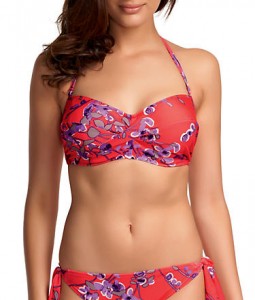 Freya provides a more traditional floral print with the bright and sunshiny Copacabana. You'll be catching rays and lots of attention poolside with this number on! Want to be a bit more daring? Go for the side tie bottoms instead.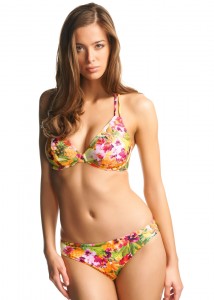 Fantasie knocks it out of the park again with the Martinique collection. Featuring deep tropical colors, this is an ideal way to subtly embrace the floral trend.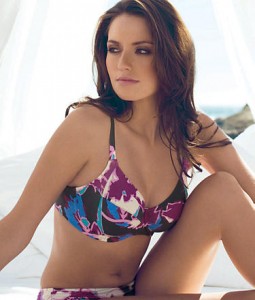 Bold Prints
I love, love, LOVE anything Marlies Dekkers, so when the brand branched out to swim, I was beside myself with glee! This lustworthy, graphic print suit, Zebra Rock,  is most definitely on my splurge list and I know it will be worth every penny for its unbelievable fit and signature style.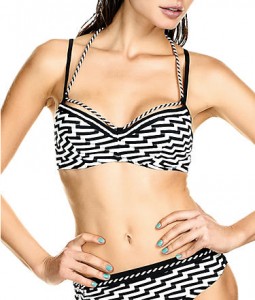 This Freya suit, West End, has an "everything old feels new again" retro vibe! Very mod and hinting at the groovy 70s. In a bold shade of red, this itty bitty teeny weeny bikini is perfect for your weekend getaway this summer.
West End isn't the only Freya suit making retro waves! If the last suit was reflective of the 70s, this suit is reflective of the 80s! With its animal print and neon leaves, this suit truly flashes back to the Flashdance era, hence the name. The vintage looks is balanced by a modern tankini cut among other contemporary styles.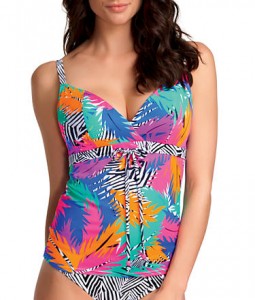 Strapless One-Pieces
Panache is leading the way in this style for full cups for sure! You can't lose with this style if you are looking to avoid those pesky tan lines.
The Cleo by Panache Pippa style is cute and quaint and features a subtle boat  pattern. Sailing anyone? The flaps at the top provide a nice contrast to the print and brings out the colors. Classy!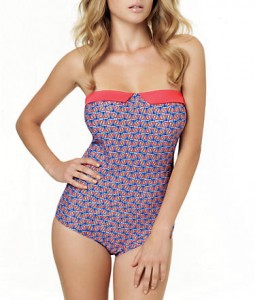 If you are looking for a stunner, Savannah is your best bet. In a rich and vibrant purple accented by a geometric design, it is a guaranteed winner.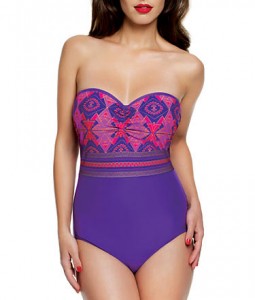 Sophia is a versatile suit in that it can convert from both strapless to one shoulder. Also in a gorgeous purple, it provides great coverage with great style.