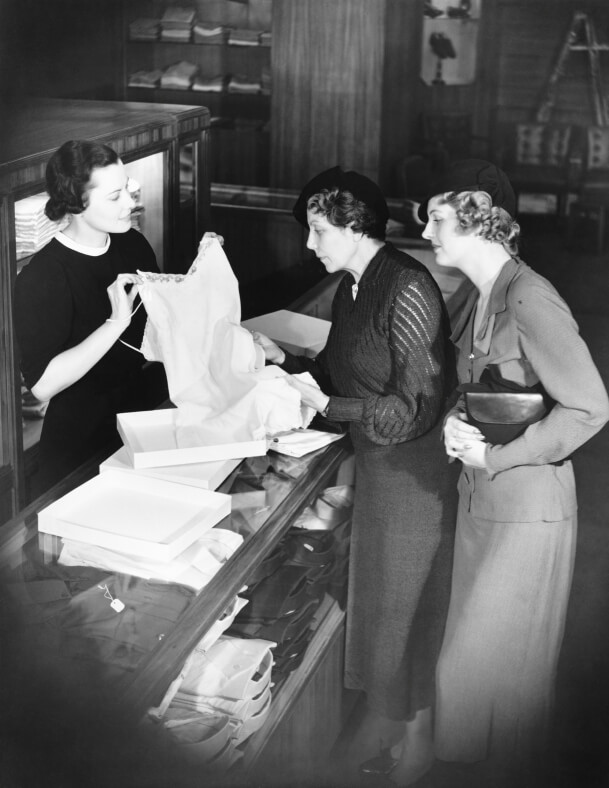 I'm a lingerie designer, so most of my work is pretty behind-the-scenes.  Generally I wholesale the pieces I design to stores rather than retailing directly to consumers, so I have some but not a ton of contact with the end customer–which is too bad because nothing is more fun than talking to customers about lingerie (well, almost nothing). 
This month I decided to step out a bit and open the Valentine's Quickie popup shop for Valentine's Day.  It's a lovely little space in midtown Manhattan, an area not really known for intimate boutiques or leisurely browsing.  The people bustling past the windows are disproportionately busy professional men, with their heads down against the February winds and their minds not so much on the lacier side of life, at least not at that moment.  These men, I thought, were just the sort who would benefit from a little helping hand with Valentine's shopping.
Selling lingerie to men is a very different experience from selling it to women, and I figured the insights I've gained from these interactions at the popup shop could be used for good by TLA readers, assuming, of course, that the definition of "good" here is all you lingerie wearers getting to wear the lingerie YOU love instead of just what others may love to see you in, and hopefully being given it as a gift.
I realize I'm writing with a hetero-normative set of assumptions, and that's not because I don't support everyone in the world wearing women's lingerie for whomever they choose.  It's just because my customers tend to be straight men shopping for their girlfriends or wives, or straight women shopping for themselves.
When entering a store, women tend to recognize immediately what fits in their taste rubric.  This may sound like obvious behavior and an even more obvious statement–after all, what is "taste" if not being drawn to the things you like.  But, in contrast, men often enter a store, even a men's clothing store, and don't necessarily know what they like as a category (DO I like stripes???), let alone recognize which items in the store might be likeable to themselves.   These difference in shopping habits have been studied and documented by people more qualified than I, and the studies are fascinating.
So what happens when you throw a bunch of so-called unmentionables in the path of an already fazed male shopper?  Total bafflement.  There are so many men who would LOVE to buy lingerie for their ladies, but when faced with the execution of this wish, suddenly find that they don't know how to describe the person they love so much.
For example, a  recent male customer of mine:
Customer sees shop window displaying silk chemises.  Stops.  Stands rooted for about 5 seconds.  Inches toward the door, looks through the door, looks back at the main window, slowly opens the door and steps in.  Stands near a clothing rack but keeps his eyes averted from the clothing, gazing vaguely ceiling-ward.
Me: What can I help you find?
Customer: Uh, I want to get something for my girlfriend.
Me: Great.  So why don't you tell me a little about her.  Can you tell me about her taste?  What kind of lingerie does she usually wear?
Customer: I guess just normal stuff?
Me: Okay, so what would she wear out to dinner with you?  Does she like to dress up, or does she prefer to dress more casually and comfortably?
Customer: She always looks so good…mostly jeans, but cute?  I don't really know. 
Then I asked ever more specific questions with definite answers, like "does she wear a lot of black?" until I could get some sense of her style.  And then I turned the conversation to what he's trying to communicate with this gift, which is a separate category of data in determining the perfect lingerie gift.  This man knew that he loved his girlfriend, and wanted to show that.  He wanted to tell her that he thinks she's beautiful and likes the idea of broadening their horizons of play, but he was a little afraid since she was not a big special-occasion lingerie wearer of his gift being perceived either as a chastisement for her typical modesty or as an attempt to reform her in order to please himself, i.e. the infamous "gift for him" mode of lingerie buying.
We ended up deciding on a silk slip with asymmetrical lace appliques.  It was classic and elegant, with enough coverage to make her comfortable and enough mesh and lace to distinguish it from her normal attire.
What size? Ah, the final snafu.  He didn't really know.
We did eventually figure it out, based on comparisons to other women in the shop, photos, and some guesswork, and the customer walked away feeling excited about his gift.  I loved the whole exchange too.  It's always satisfying to see a customer in love with lingerie.
So, in this case, the story ended well (I hope…fingers crossed she loves it), but he might just as easily have walked into a different store, or never sought out a lingerie store at all if there hadn't been one next door to his office.  So how do you ensure YOUR guy gets you the lingerie you want and will feel best in?
Here are some tips on what he should know to help a salesperson help him.  HOW you tell him is up to you.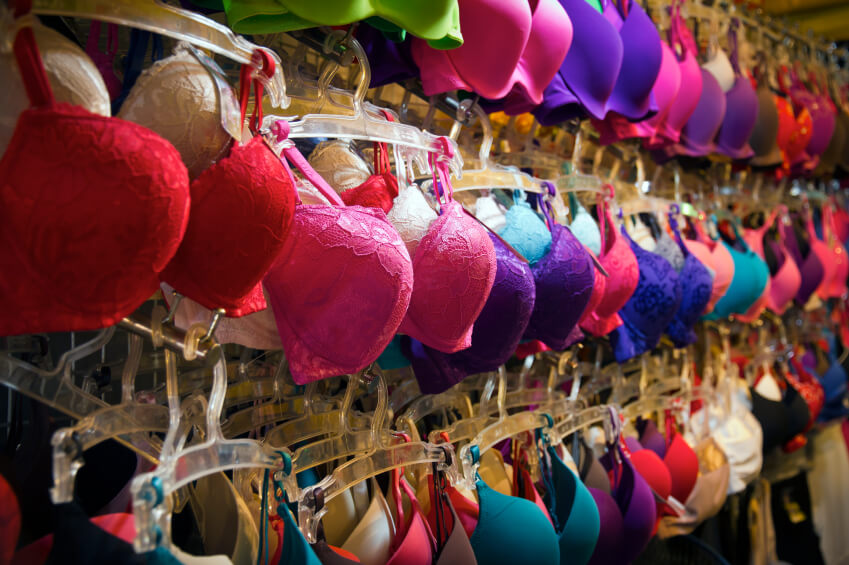 Where to shop: Direct him to an independent lingerie boutique.  He might be overwhelmed by the selection, bustle, and public exposure of a big box store.  Also, a boutique is more likely to have a varied selection of colors, styles and fabrics that are selected from a range of brands.  A variety of brands means there will probably be something to suit your own taste.  Most important, at a boutique he will get personal attention from knowledgeable staff.
Your Style: Men are unfamiliar with the kinds of adjectives women, informed by the fashion press, often use to describe style.  He might not necessarily know if you are "girly" versus "glamorous" or "sporty" versus "cozy."  These are the words that will help a good salesperson to understand your general style, so let your man in on them.
Favorite Colors: Similarly, men are generally less attuned to describing color differences in clothing than women.  Help him out by letting him know if you're a classic black and white girl, or if you like glamorous reds, romantic dusty pinks, etc.  If you don't tell him, he will likely default to black, which is always a safe choice.
Your Body: You might have particular body parts that you love to highlight or to de-emphasize.  He will not know this because he just thinks "hot."  If you love to show off your legs, you can mention that you love short pieces, or if you prefer your belly covered, he should be warned, or else you may end up with a fringy cutout.  Men tend to follow the "smaller and tighter is better" view of lingerie, which is not ultimately what's most flattering.
Silhouettes you like: Especially when shopping for bras or anything with a fitted bust, silhouette and fit matter.  To avoid his buying you, a 36D, a ruffled triangle soft cup bra, show him your favorite piece and drop words like "underwire," "demi cup," "unlined" that will direct the salesperson to your correct silhouette.
Your size: It's amazing how often men shop for women whose size they have no idea about!  Letting him know will help him avoid the awkward situation of having to scope out other women in the shop to compare them to you. 

 
Does any of this sound familiar? Share your story of your perfect (or imperfect) lingerie gift.  On that note, happy Valentine's and happy lingerie-loving to all!
(P.s. If you're in the New York City area, feel free to drop in on me at the Lola Haze Valentine's Quickie Popup 501 Lexington Avenue (47/48th) New York, NY now through Feb 14.)