Date Night Lingerie: What To Wear On Valentine's Eve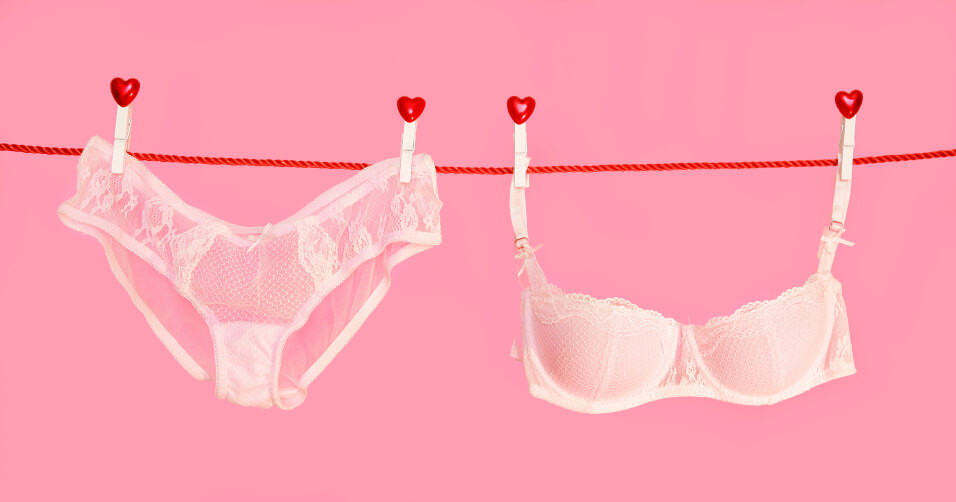 The year's biggest date night is almost upon us, and you're not alone if you're fretting over the details. Each year many of us face the usual questions: Who will be my Valentine? What will we do to celebrate? What should I wear? And my most frequently asked question: What underwear will I wear?
It can often be a very thoughtful process choosing your lingerie selection for this special evening. Depending on whom you are seeing, what stage you are at in your relationship, and where your (and their) tastes lie, you may find yourself with a lingerie quagmire on your hands. While you want to make sure you feel your most confident and comfortable, you also will want to look the part, portraying the image you believe most adequately represents your personality while illustrating the appropriate kind of message to your partner.
If you have the date and location set, but are just stressing over the finishing touches on your ensemble, then continue reading for some suggestions on what to wear underneath it all. To be clear, these are not dating tips or suggestions that will work for everyone. All relationships are different and move at their own unique speeds. These ideas are only meant to inspire you to find what works best for you and your needs.
The Blind Date
Scenario: You have never met in person before, set up by a mutual acquaintance or an online dating web service.
Concern: Who knows if you will be compatible or even have any kind of mutual attraction?
Lingerie Solution: Stick with something comfortable yet stylish. Chances are you will not be revealing them tonight, so comfort is key. Choose pieces in soft fabrics that don't pinch, pull, or poke. But a little fashion detail can go a long way, helping give you that extra bit of confidence knowing you still look great under your clothes.
Suggestion: I recommend comfy basics in soft fibers like cotton or modal blends. A touch of lace or a cheeky print will pump up the flirt factor while still remaining no-fuss and relaxed. Try separates from Hanky Panky, Elle Macpherson, or Honeydew Intimates.
Hotness Factor: Lukewarm
The First Date
Scenario: You have met each other before and are interested. Now it's time to see how compatible you are together.
Concern: The attraction is there, but if all goes well tonight you don't want to spoil the potential for future dates by getting too intimate too fast.
Lingerie Solution: It may be a good idea to wear something unflattering to help curb any desire you may have to get physical throughout the night. If alcohol is involved it can often cloud our judgment and lead to decisions we wouldn't usually make. So arm yourself with some granny panties or full coverage, figure-concealing basics to ensure you'll avoid doing something you may regret.
Suggestion: Steer clear of anything sexy or fashionable so you won't be tempted to give in to your desires so early in the game. How about a pair of cotton floral print briefs and a basic nude bra? Spanx, Bali, and Fruit Of The Loom have all got you covered in this category.
Hotness Factor: Arctic
The "Tonight's The Night" Date
Scenario: You have gone out a few times and things are looking good. You are ready to move on to the next base and now is the time many dates begin to really heat up.
Concern: You've built up an attraction to this person and don't want to ruin the mood. When the time comes you plan on being fully prepared and ready to go!
Lingerie Solution: This is the best time to break out your favorite lingerie. A matching set is always a winner in a seductive fabric that will make you feel sexy and confident. It may be too soon to show off some of the kinky stuff, so pick something pretty and stylish that flatters your curves and makes you feel like a million bucks.
Suggestion: Try a coordinating set in sumptuous satin or delicate lace. Keep it sophisticated in black, neutrals, reds, or pinks, or get playful in hot prints like wild leopard or flirty polka dots. Pieces from Myla, B. Tempt'd and Claudette are sure to make this night a memorable one for you both.
Hotness Factor: Hot
The Committed Partner Date
Scenario: Congratulations — the two of you have been in a relationship for a while now and things are going well! Now that you are familiar with one another, it's time to get a little more playful in the bedroom and focus on each other's most intimate fantasies.
Concern: A full understanding of your partner's wants and desires will allow you to cater to both of your specific needs. Since you have been together for some time, you can spend less time worrying about what your partner may think and focus on pushing the envelope a little further.
Lingerie Solution: It's time to get daring. Always wondered about crotchless panties? Intrigued by bondage? Whatever your usual go-to lingerie style, try switching it up with a completely contradictory look for an unexpected surprise that your partner will not forget.
Suggestion: Don't be afraid to step outside of your comfort zone here. Something bold and salacious from Maison Close, Hopeless Lingerie, or Atsuko Kudo may elicit a blush or two initially, but will be well worth it in the end.
Hotness Factor: Scorching
The Long Term Date
Scenario: You have been together for a long while now and this is not your first Valentine's Day together.
Concern: It may be time to spice things up a little. By now you know each other inside and out, including all of your quirks and eccentricities. You may be married or have a family but want to keep the spark alive after all this time together.
Lingerie Solution: It may be time to pull out all the stops and try something really unconventional. This is a great occasion to experiment with role-playing and acting out your wildest fantasies. A sexy nurse is always sure to raise heartbeats, while a sexy chambermaid knows her way around the bedroom. Whatever fantasy you choose for you and your partner, make sure to have fun with it and only take it as far as you feel comfortable with.
Suggestion: Sexy, themed costumes from 3 Wishes, Trashy Lingerie & Victoria's Secret are sure to get things heating up quickly.
Hotness Factor: Sizzling
The Self Love Date
Scenario: Being dateless on Valentine's Day is nothing to scoff at! Nearly 50% of the American population is single, and what better time to get in touch with your emotions and practice self-appreciation?
Concern: Not having a date on Valentine's Day does not mean a night of loneliness and self-pity. There are plenty of ways to celebrate this time and treat yourself to an indulgent date night of your own.
Lingerie Solution: Why not wear your favorite, most sensual lingerie today just for yourself? Indulge in a bottle of wine, some chocolates, and major pampering for a night that is all about you. Pieces that feel luxurious to the touch are a great way to help you feel sensual and extravagant.
Suggestion: Choose soft and silky styles that hug you in all the right places on this romantic holiday. Mary Green, Marika Vera, and Oscar De La Renta are just a few luxury brands that will have you feeling pretty and pampered in no time.
Hotness Factor: Hot
What will you be wearing this Valentines Day? How will you celebrate this year?