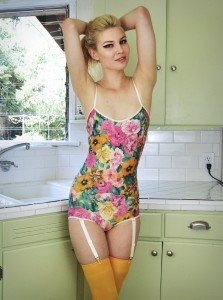 I hear lots of people complaining about how restricted full bust and plus size lingerie options are, but as someone who has spent days sorting through great options for this article I really have to disagree. Things aren't perfect, but curvy women have loads of gorgeous options to choose from these days. From handmade silk bras that go up to a KK cup to affordable Wonder Woman undies, there is something for everyone on this list. The designers and brands cover a range of price points and specialities, but they all create products that are designed to work with and enhance your curves.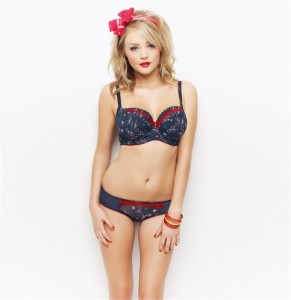 I'd put off trying this brand for a long time, simply because the regular Panache stuff doesn't work for me at all. I'm so glad I saw the light, because my Cleo bras are now some of my favorites. They provide incredible uplift and a lovely rounded shape, and their designs are consistently youthful and cool. They're so comfortable that I can accidentally fall asleep in them (and have) which I've never been able to do in any underwired bra. If you struggle with the wires in regular Panache, give Cleo a try.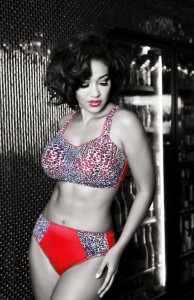 I feel a little guilty about putting Curveturiere Intimates on this list, as their new line is wonderful but won't be available until the holiday season. If you're coveting their stuff like I am, we can all form a support group or something. Curveturiere Intimates is a brand new line that will be making a wide range of bras, panties and loungewear in band sizes 32-50 and  cup sizes D-K. Their pieces will be affordable (in the same range as brands like Parfait by Affinitas), which is great news. The new line is both fashionable and functional, and will feature both wired and non-wired bra options. The bra shown above is actually a cami-bra rather than a regular bra, for instance. I predict that we'll see this brand everywhere within the next few months.
I've been a fan of La Lilouche for ages, but she's finally started offering full busted and plus sizes this season. If you're looking for a bridal or special occasion piece then she should be one of your first stops. I love this Goldie gown for so many reasons: the color, the flattering cut, and the gorgeous Grecian details. If you're looking for everyday luxury, check out her Blondes/Brunettes Rock Night Shirt.
Alegro isn't a new brand, but they have recently expanded their sizing to include J cups! They're a wonderful source for gorgeous every day bras. Their laces are incredibly soft and their bras hold up nicely. They aren't as well known as they should be, so if you're looking to give something new a try make sure to check them out.
Parfait by Affinitas is one of the best every day bra brands out there. Their pieces are stylish and affordable, and they hold up for ages. I'm especially pleased to see their new menswear influenced pieces alongside more traditional options like this Alexis babydoll. Whichever style you pick, you'll find yourself feeling supported and sexy.
It's impossible not to fall in in love with Knickerocker's affordable custom panties and bodysuits. These is my favorite choice for every day underwear, and they hold up incredibly well. If you want cute custom undies that don't break the bank, this is your answer. Knickerocker also does custom sizing, so if you don't see your size listed just drop her a note and ask.
Everyone has seen Claudette's mesh Neon Dessous range in all of it's electric colored glory, but the brand has released several new lines which are equally beautiful and unexpected. This blue version of the En Dentelle is sophisticated and sweet without becoming boring.
The handmade luxury bra market hasn't really started making bras in larger cup sizes yet, so I was extra excited to discover that Louise Ferdinand Lingerie is filling the gap. All of her exquisite bras are handmade out of luxury fabrics, and cup sizes go up to a KK. She offers both a bridal and a classic line based on 1930′s styles. If you're looking for a special occasion set with fabulous support, this is where you should pick it up.
Naked Princess is a company that works hard to make their pieces work for a wide range of sizes. They produce luxury pieces from French and Italian fabrics, and all of their production is done within the US. Their stuff is also incredibly comfortable. I'm currently in love with this Garter Camisole, but my favorite of all their pieces are their panties. They're the most comfortable ones on the market and they last forever.
Ewa Michalak hasn't come out with their full Fall/Winter lineup yet, but they're one of my favorite places to pick up gorgeous and affordable bras all year round. They carry a huge range of cup and band sizes, so there is literally something for everyone. Bras can sell out fast and tend to be offered in limited runs, so go pick up your favorites now and then check back in a few months.
Which brands are you looking forward to trying this season? Have I missed anything that you're in love with?