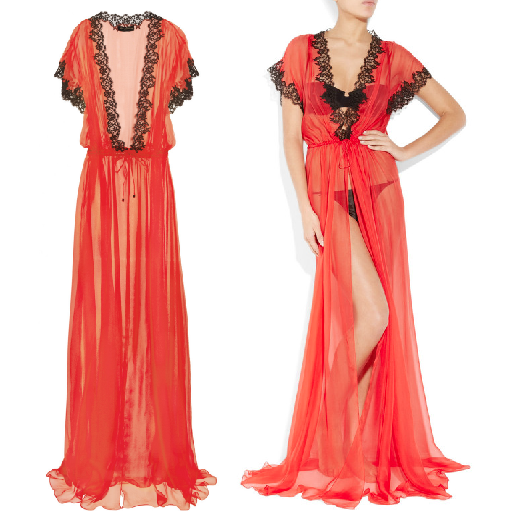 Love at first sight! That's what I felt the first time I laid eyes on this breathtaking chiffon robe by Jenny Packham. I don't know if it's the delicately scalloped lace, fiery hue or dramatic pooling hemline, but I can't get this piece out of my head! And with a retail price in the quadruple digits I fear it is fated to remain unattainable for all of eternity. But hey, a girl can dream right?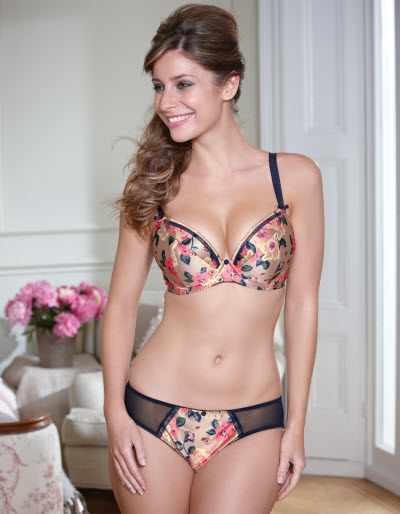 I've been thinking a lot about transitional fashion lately, and this Satine Floral Bra fits right into my autumn wardrobe. It's bright but still feels crisp like autumn lingerie should, and is a supportive plunge shape that works under almost anything. The best Bravissimo offerings go fast, so make sure you pick one up before they're gone!
Since buying the
Josie by Natori Mya Day Bra
 in black and silver on a whim a couple months ago, I've quickly become obsessed.  This wire-free lace bralette has a subtle 1/4 pad and the result is surprisingly shapely, and easily the most comfortable bra I've ever worn.  The style comes in a few color ways (the Josie "Ginger" bra seems to be identical in fit and construction) and with a bit of searching online you can find the style on sale for around $20 or so.  Even the full list price of $38 is well worth it for the flattering fit and incredible comfort.  Get one before they're gone!
Photo Joel Aron, Model Victoria Dagger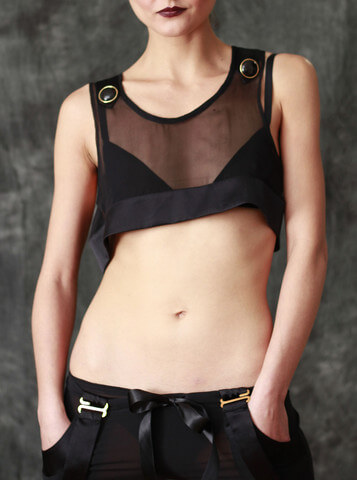 I'm loving the contrast of sheer and opaque silks in this crop top and the way the floatiness of the chiffon is offset by the bold gold hardware.  This piece is a perfect blend of innerwear and outerwear; I can imagine so many gorgeous ways of styling this, whether layered over a casual vest top or paired with some naughty nipple pasties!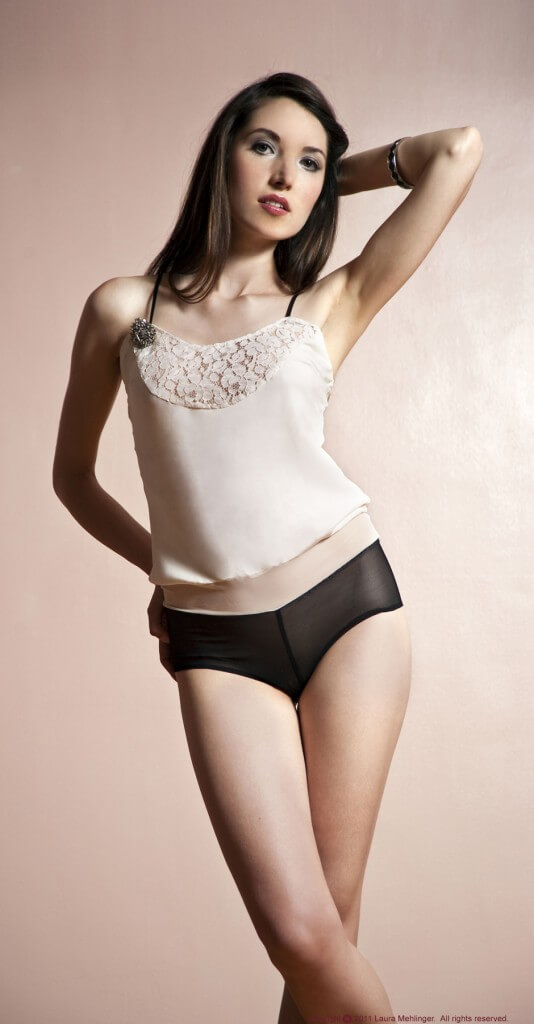 I'm going to shamelessly plug my own piece! September means many things, the end of scorching heat, the beginning of cozier dressing, homework, shorter days.  I'm always excited that Fall means I want to start wearing loungewear around the house instead of immediately stripping and throwing ice at my face.  The Screen Goddess Teddy from Lola Haze is a great Autumn transitional piece to heat things up, while keeping your cool.  Ivory silk top with sexy lace inset and mesh panty, with removable brooch for a little bit of glamour.