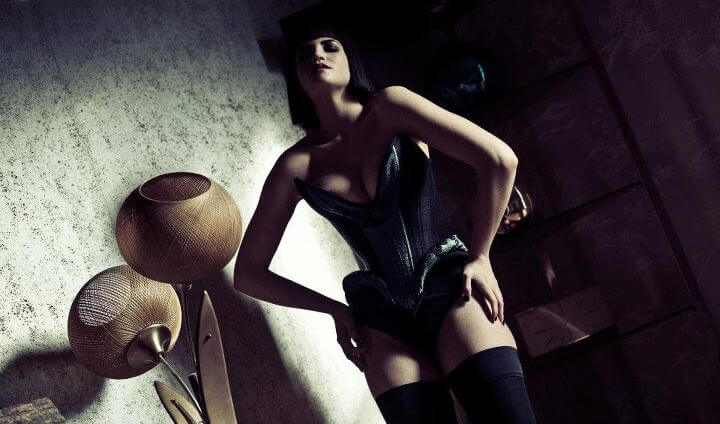 Jenni Hampshire of Sparklewren is a self-trained corsetiere whose designs aren't just garments; they are true works of art, pairing beautiful shaping with exquisite embellishment. She will soon be embarking on the ambitious business venture of opening a pop-up corset boutique in Birmingham's 'Great Western Arcade', a wonderful Victorian building in the city centre.  Having helped out with the preparations I've been lucky enough to see the amount of work that goes into creating these incredible corsets.  To me, they are the true definition of luxury – a mindblowing amount of attention is lavished on every last detail, from the vast amounts of boning tunnels to the intricate hand appliquéd and layered lace.  I can't wait to see the boutique open;  Jenni was kind enough to answer a few questions about it so that you can share some of the excitement!
What originally inspired you to open a pop-up boutique?
It is something I have always wanted to do. Perhaps because of my arts background, I always picture my pieces within a context… Whether that's as part of an ensemble, within a photograph, or within a display environment. Presenting my work within a boutique or showroom  just makes sense to me creatively, though it is of course a sensible move from a marketing point of view. Being a shy, home-based business, the people of Birmingham are perhaps not as aware of Sparklewren as they should be. The pop-up boutique will give me a platform with which to rectify that.
What sort of new challenges do you think a boutique will present that the internet doesn't?
Probably many more than I realise! I think that negotiating what to display, how much stock to have, etc. will be crucial in conveying the idea of "bespoke". It's such an unusual way of dressing to most people, that I imagine people could easily assume it's just a question of ordering Design X in size 12, when in actual fact each pieces is much more of a collaborative creative process than that. So I think I will be educating those who come through my door, in some respects.
I do love distance/online work for the sole fact that I can take my time to quietly work on an idea, quote, or email. But the pay-off of in-person work is the joy of being there when they receive their corset and being able to day-dream about the piece together. So each method of business has its pros and cons.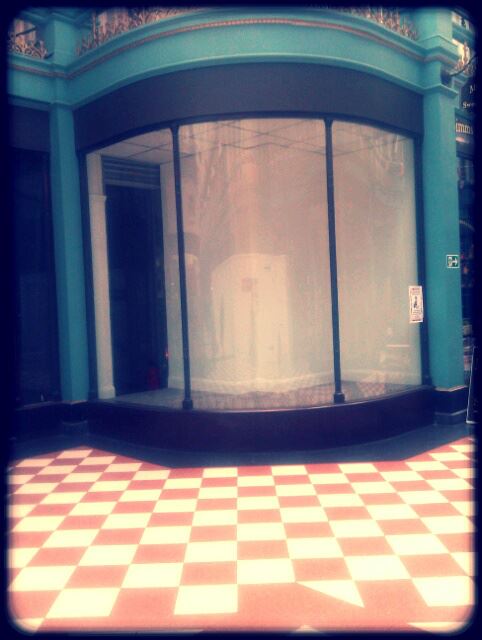 The Boutique window, pre-transformation
What's your vision for the boutique?  Could you explain a little about the theme of gilding and the décor?
The boutique needs to function to present the garments, which is at the forefront of my mind… I need to remember that key fact, else I might get carried away with superfluous details! Whilst I have this overarching obsession with the notion of "gilding" as a creative ethos, I am also mindful of the fact that my boutique mustn't overwhelm the garments.
So I am aiming for a balance of opulent grandeur and contemporary simplicity. Gilded details, chalky champagne and grey tones, soft hazy muslin drapes… a muted, elegant canvas against which my work can shine.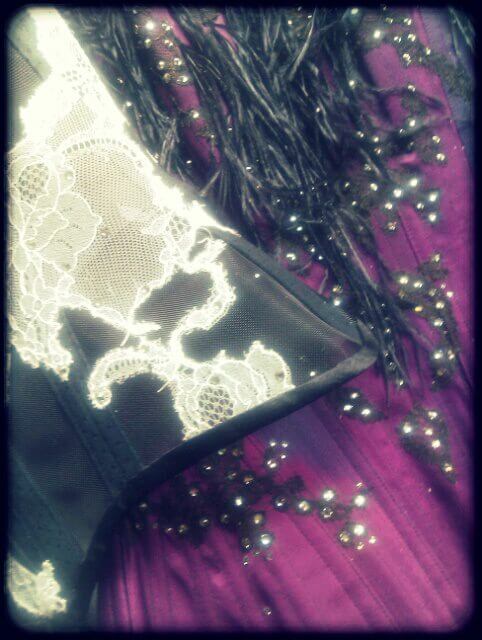 Exquisite Sparklewren detailing – lace appliqué, feathers and crystals
What has been the most exciting part of prepararing for the boutique?  What has been the most nerve wracking?
Dreaming up and creating new pieces is always the most exciting part of any project! But certainly, the interest and support I have had from friends and followers has also been wonderful and a massive confidence boost. Perfect strangers have helped out with the project and some people are already planning their journeys so that they can just see the boutique and its contents in the flesh. It's terribly encouraging that they care so much. I mean, all I have ever wanted to do is make beautiful things, so it is a complete joy that having found my medium people are responding to it and enjoying that beauty.
As far as nerves go, I can get nervous over the silliest things sometimes. I would say that waiting for the keys to the space was the most nerve-wracking time though, as I was convinced something would happen to scupper my plans!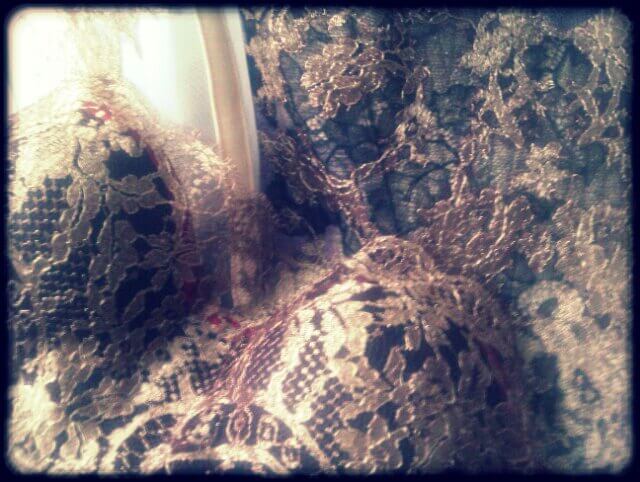 Gorgeous layered lace
Could you describe the show pieces that you have in mind for the boutique?  Just how amazingly shiny will they be?
Haha, very shiny! I'm working on lightly "gilded" cinchers all the way to heavily encrusted iridescent silk satin corseted gowns. I have pieces which require four or five separate layers of applied texture on top of the main construction (which in itself is a very time-consuming process) and I am thinking a lot about the relationship between silhouette and surface in these pieces.
Being a typical magpie, this is all great fun for me and I hope it will prove equally eye-catching and intriguing for my friends, peers and future potential clients.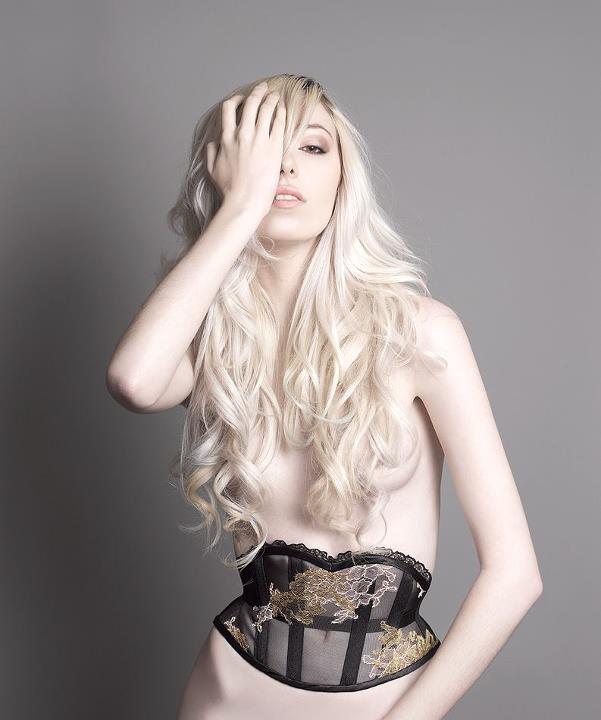 A sheer sweetheart cincher
What sort of ready-to-wear things can we expect at the boutique?
Delicate little sweetheart cinchers with hand-cut and appliqued couture lace… potentially some little silk and lace treats such as blindfolds, panties or cami tops… and no doubt a couple of overbust corsets too, since I can't help but create new pieces all the time.
What services do you plan to offer at the boutique?
As mentioned, I do want to update a small selection of stock items every so often, to keep the boutique pretty and satisfy some client's decadent whims! But the focus of my work at this time really is bespoke. Primarily because I'm fickle and easily bored! Bespoke allows for each project to be exceptional, different and interesting in its own right. I believe that bridal, stage, boudoir wear… it can all be elevated by consideration of every little detail in relation to the client's character and physique. Having display items constantly on show within the boutique (something not possible in my home studio) will encourage greater imagination, I think.
So there will be a main space for display of items, client meetings, sale of stock pieces… a hidden workspace (which will no doubt be creative chaos)… and a generous fitting area for dressing clients and checking toiles.
When is the launch and what can we expect to see there?
I'm aiming for either the 26th or 27th June for the launch, evening time, but this is still up in the air and I will let everyone know once it is confirmed. The launch will be the official unveiling of my most recent "gilded" corsets and corseted gowns, which I am massively excited about! The window (which is featuring a gilded backdrop by artist Emily Swift-Jones) will, for that one night, also feature a special guest, resplendent in golden Sparklewren finery, as a living mannequin.
I have to say, the launch excites me the most… the idea of all those sparkling, gleaming corsets, the window, the living mannequin… I want it to be overwhelming, for the visitors to feel saturated in gold, enveloped in sumptuous fabrics. I can't wait.
A huge thank you to Jenni for taking the time to answer these questions – I think it's safe to say that the boutique will be stunning once it's open!   Jenni's website can be found here.