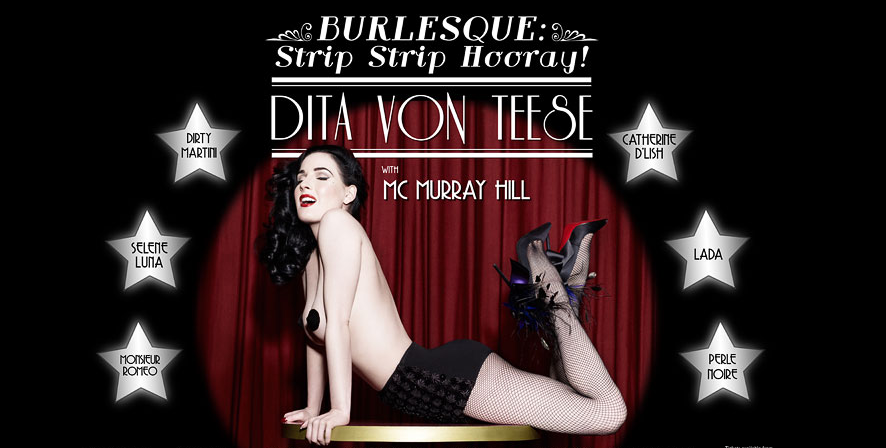 A week ago last Friday, I attended 'Strip, Strip, Hooray!', Dita von Teese's new burlesque revue. It's no exaggeration to say I've wanted to see Dita perform live for years, and I'd been looking forward to seeing this show for months. In fact, I bought my tickets the very minute (literally) they went on sale. Swarovskis…Louboutins…Mr. Pearl Corsets…what's not to love?
Yet, I left 'Strip, Strip, Hooray!' feeling…conflicted. And in the days I spent days afterwards sorting through my impressions from the show, my sense of conflict turned into a general feeling of disappointment which left me with the surprising realization that, despite my earlier excitement, I'm not really interested in seeing Dita perform live again.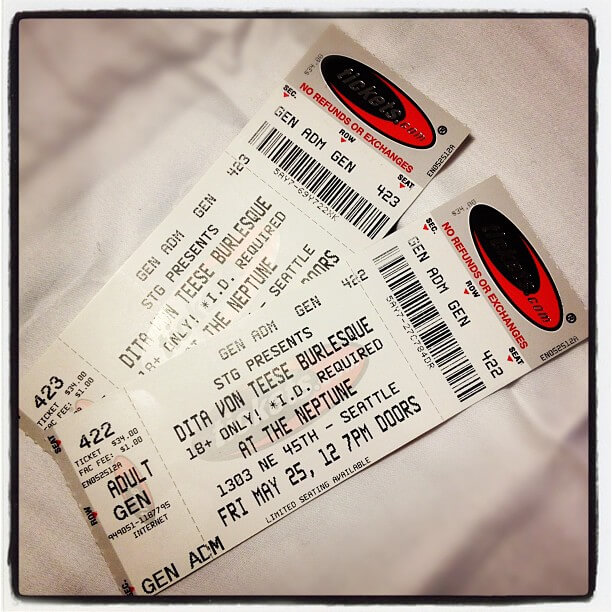 But first of all, let's start with the good. The show had an amazingly diverse cast in every sense of the word – body type, ethnicity, and gender. There were thin performers (Lada), thick performers (Dirty Martini), performers of color (Perle Noire), male performers (Monsieur Romeo), older performers (Catherine D'Lish), and a performer with what I think was dwarfism (Selene Luna). It was really exciting to me to see so many different kinds of burlesque represented, and our Emcee Murray Hill was super entertaining, keeping the energy high and the laughs loud all night long.
My personal favorite act was Perle Noire's electric tribute to Josephine Baker (complete with the banana skirt!) though Catherine D'Lish's sinuous and seductive spiderweb act was a close second. The production value was high, and the performers were obviously at the top of their game.
But what of Dita, the headliner we were all there to see? If I can dare to say it, I felt underwhelmed…like she was the weakest performer of them all.
The costumes were gorgeous, it's true. The shoes, the lingerie, the trademark poses…they were all there, but in a way that felt formulaic and bland, not innovative and groundbreaking. Instead of the spontaneity I love in burlesque (and in live theater, period), all of Dita's numbers – which included classics like the Martini Glass, Cowgirl, and Makeup Compact – felt predictable and uninspired, the energy replaced with crystals and corsets and set pieces. 10 days later, the most memorable parts of Dita's acts are the costumes, not the performer or the performance.
But more than all that, Dita's final act (which, naturally, is going to be the one people remember most) left me feeling intensely uncomfortable. For those who haven't seen the show, Dita closes with her Opium Den routine, where she's clad in an elaborate "Oriental" costume (a word I'm using deliberately as I think it's negative connotations are appropriate here) and smoking opium just before a set of gloved hands caress her body to (simulated) climax.
After such an enjoyable evening, the Opium Den piece came across as insensitive and regressive, the stereotypical story and costuming an unnecessarily negative finale to an otherwise good show. And I'm not the only one who felt that way. The Shanghai Pearl, a Seattle burlesque performer (and my burlesque teacher) explains the issue so much better than I ever could in this excerpt from a statement on her Facebook page:
"The 'Strip Strip Hooray!' show is spectacular and revolutionary in so many different and wonderful ways. However, I was stunned that the finale was an act that perpetuates harmful and negative stereotypes of Asian women. It was very incongruous with the rest of the show.
It would seem that throughout the conception of the act, all the tour planning, and all the press, not one person considered the possibility that the material could be insensitive, harmful, or offensive.
We could do well to be more sensitive and aware of our individual privileges and other people's experiences.  It is not only our responsibility to one another, but common courtesy to consider others in our actions.
There are many damaging stereotypes and behaviors that used to be widely acceptable and now thankfully, no longer have a positive presence in mainstream thinking. This change is due to people asking speaking up, taking action, and raising awareness.
Silence is the only choice that will keep us from doing better."
Last week's vacation gave me the chance to wait awhile before writing this review to see if my impressions of the show changed with a bit of time and distance, but they haven't. I'm still glad I went to see 'Strip, Strip, Hooray!' I'm just not sure I want to go to another of Dita's shows again.
Have you seen 'Strip, Strip, Hooray?' What did you think? Please share your impressions in the comments.