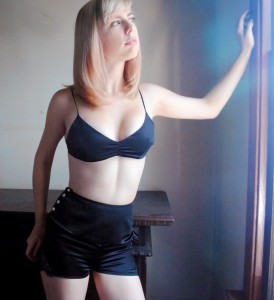 Vintage collector and stylist Rachel Hill launched Lady Jane Lingerie with the goal of creating authentic 30′s and 40′s style pieces.  The signature collection includes classic tap pants with a lace inset and a matching soft cup bra, and is inspired by iconic pulp imagery, from film noir to vintage murder mystery paperbacks.  Lady Jane Lingerie is available for purchase on Etsy at ladyjanelingerie.etsy.com/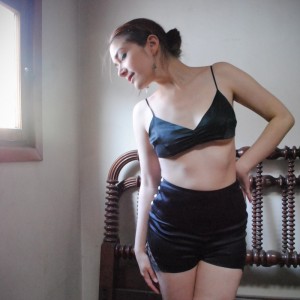 How long ago did you start Lady Jane?
I started Lady Jane Lingerie in 2009.
What inspired you to make tap pants in particular?
I'd been collecting vintage lingerie pieces for a while, and found it surprising that this particular style of lingerie had disappeared completely, when they were so comfortable and flattering! I wanted tap pants made in a vintage style but that weren't so fragile like real vintage pieces.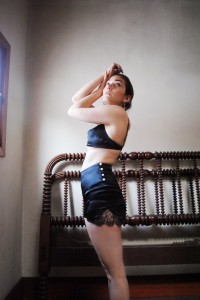 How do you feel they fit in with a modern (gone retro) girl's wardrobe?  Any styling suggestions for us?
Well, the line is mostly intended as loungewear and for "fun" (you know what kind of fun!), however, the tap pants are great to wear under dresses (particularly dresses that are really short).  They can also be worn with garters for the full look. And the bras can be worn with anything, as although they do not have underwires, since they do not use stretch fabric they actually offer a bit more support than similar wireless styles.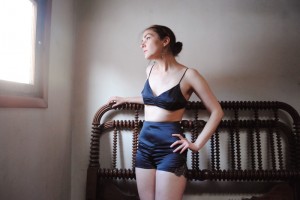 Do you do the patterning and sewing yourself?
I worked with an amazing technical designer to get the pattern just right.  Grading lingerie is a nightmare!  The final pieces were done locally in NYC.
Tell us some more about your background before Lady Jane.
I have been collecting vintage since my teens, and as any vintage collector will tell you, knowing how to sew is a MUST.  I learned how to sew about 6 years ago and eventually started selling some bags on etsy made from vintage fabrics under the name "Lady Jane Designs."  Eventually I wanted to do something with a different aesthetic (the bags and most of my vintage are mostly mid century influenced) and started the lingerie line.  I am also a stylist in my spare time and have worked with Nylon, Refinery 29, and others.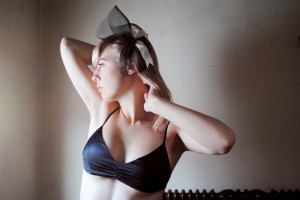 Did you go to school for fashion?
I've taken some courses, yes, at both FIT and the London College of Fashion.  However, I actually have a master's in social policy.  I'm not really your typical "policy wonk," obviously.  These kinds of projects grew out of a need to express myself creatively in a not very creative field.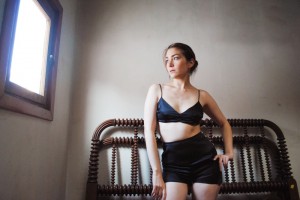 What's next for Lady Jane?
I want to expand the line to more styles, definitely… I'd like to do bed jackets, one-pieces ("step-ins") and robes.  Stay tuned!
Now, onto the review!
After providing designer Rachel Hill with my measurements (33-25-36.5 at the time, bra 30c), I was sent an XS pair of tap pants ($65) and a small bra ($50).  The construction was very clean and professional, and the silk charmeuse fabric and button detail lovely.  The sizes I was sent were kind of the opposite of what I was expecting, as my hips are consistently a size larger than my top half, but I wanted to trust to the designer's estimation of the fit.  I tried them on myself and a friend and documented the fit with a photoshoot.  Today's featured guinea pig, Kelsey, has similar measurements but is taller and overall slightly larger, with proportionately narrower hips and a fuller bust.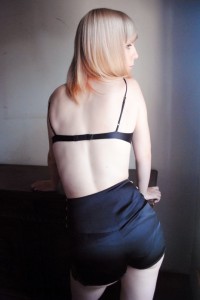 I think the designs themselves are simple, classic, and well-executed.  They'd make good staples in a pinup girl wardrobe.  I liked the subtle cheekiness (ahem) of the otherwise quite modest tap pants.  The stitching is extremely tidy, but I had a few minor issues with the fit/construction.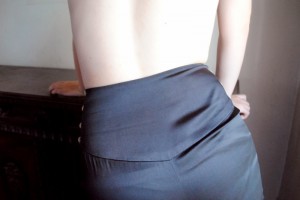 As I thought, the bra was loose on my rib cage and the tap pants were very snug on my hips.  I could've done with an XS bra and S tap pants.  Both my friend Kelsey and I were concerned that we might rip the stitching or fabric on the side seam as we slipped the tap pants on and off.  I really wish the button closure went down longer on the hips, or perhaps a short invisible zipper in the side seam below the yoke would be better.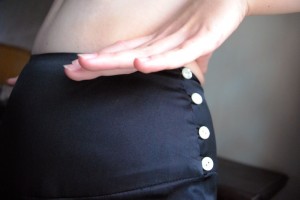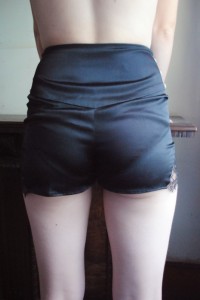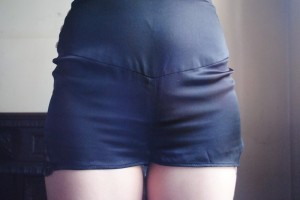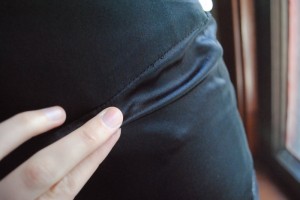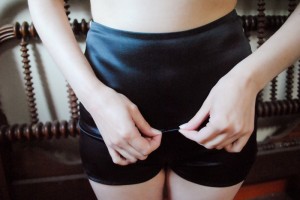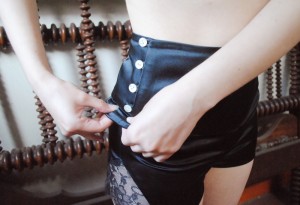 The rise of the tap pants was a smidge short on Kelsey and rather long on me.  On Kelsey, that means it stopped slightly short of her natural waistline, and on me, it meant that the additional length rippled between my waist and the crotch seam.  Both of us had noticeable excess fabric below the yoke, though obviously the problem was much worse on me because of my height.  (Though, with high waisted things, I do agree it is probably generally better to err on the side of taller rather than shorter.)  However, the waist at least fit nice and snug, and the hips probably would've been fine on someone with a more moderate 8-10" difference between waist and hips, rather than my 12-ish.
The bralet has very clean, flattering lines and is a cute style with skinny spaghetti straps.  Obviously it's not intended to be particularly supportive but it's not bad.  Support aside, just based on the volume difference between the band and the cups, it seems like it's best suited to A-B cups, as Kelsey and I both spilled out the bottom.  The main issue I have with the bra is the darts.  If the front dart were bigger, it would contour more to a C+ bustline.  The side dart is just entirely wonky; too small and stopping short, resulting in a bit of a wall-eyed look.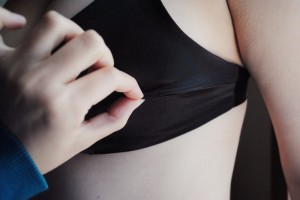 Overall, I was impressed with the quality of the line and the design of the pieces, but would like to see the fit issues resolved before I would add them to my wardrobe.  They are definitely classic pieces and I would be likely to purchase a set if the fit were corrected.
What is your take on these styles?  Got another favorite vintage-style designer on Etsy?  Share in the comments.
Photos of Kelsey Sailors by Marianne Faulkner
Photos of Victoria Dagger by Kelsey Sailors