Blossoming Bloomers


If you've ever participated in Hanami, or the viewing of the annual Cherry Blossoms, then you understand the allure of this centuries old practice and the inspiration it provides for tourists, artists & peace seekers alike. A traditional Japanese practice, Hanami has risen to become a global phenomenon famous for its beauty and symbolization of life's ephemerality.
However, as with life, the fantastical blooms of the Cherry Blossom trees are fleeting, which is what makes Hanami so special and elusive. Depending on the weather, Cherry Blossom festivals (also known as Sakura Matsuri) may only last for around two weeks.
As a designer I have often found great inspiration in the lush pink blooms and it seems that I'm not alone. This season many lingerie labels have incorporated the beautiful blossoms & Oriental influence into their prints, color palettes & design details, making for some pretty skivvies and gorgeous accessories. Here are a few noteworthy pieces to help catapult us into spring.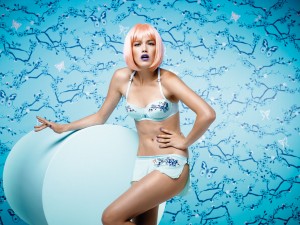 This pretty set from Marlies Dekkers showcases cherry blossoms and butterflies embroidered on silk. Practical for every day wear this set looks comfortable and understated while the side slits & metal details give it that little edge Marlies Dekkers is famous for. (http://www.marliesdekkers.com/)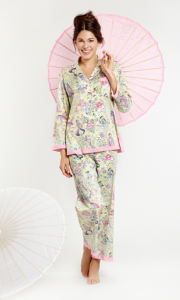 Bedhead is known for their cozy pajamas in an array of kitschy prints & patterns. This season they have taken their inspiration from the Far East with a range of botanical florals and Oriental motifs. One of my favorites is this Little Tokyo print depicting cherry blossoms, silk fans and exotic geisha girls. Paper parasol not included! (http://www.bedheadpjs.com/)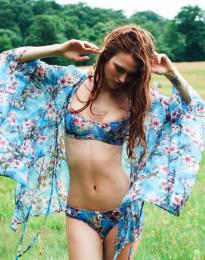 The Blossom collection from Dirty Pretty Things is at the top of my list for this season. I'm loving the photo quality print with the saturated contrasting colors. In georgette it's flowy, silky and breezy – everything a spring wardrobe should be. And since it comes in every silhouette under the sun you may have a tough time choosing just one piece! (http://www.dirtyprettythings.uk.com/)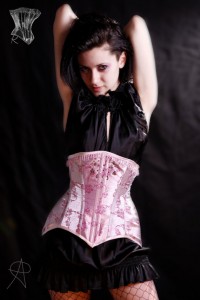 Italian corset maker Karybdis Atelier has created this one of a kind Victorian underbust corset in luxury brocade with metallic cherry blossom embroidery. The craftsmanship is visible in the details – crystal beadwork, steel boning & satin lace-up back. This piece creates a perfect hourglass silhouette with its burlesque aesthetic and would make a great gift for a bride to be. (http://www.etsy.com/shop/KarybdisAtelier)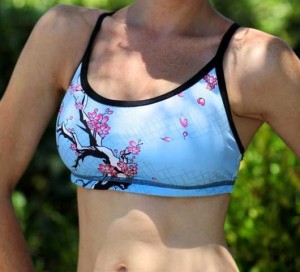 Another great collection is from active wear company INKnBURN who specialize in vibrant & unique printed performance workout gear. For Spring INKnBURN is showing this pretty cherry blossom print in an array of silhouettes. This sports bra particularly caught my eye and can be easily matched to a running short, t-shirt, arm warmers or camp. (http://www.inknburn.com/)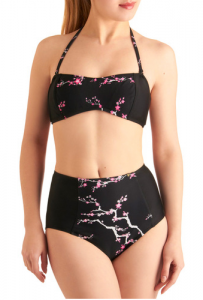 Finally full coverage bikinis are back in style as a retro silhouette! If you are embracing this trend like I am (goodbye tummy pooch, hello curves) then you may be interested in this cherry blossom set from Australian swimwear designer Lisa Blue. The surf ready suit is made to stay put while looking cute & stylish. And as an extra bonus a portion of the proceeds will be donated to protecting the whales and dolphins. (http://lisablue.com.au/)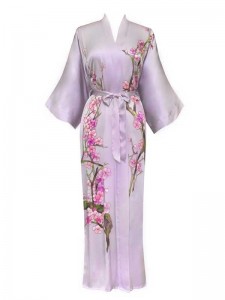 Old Shanghai Online is a great resource to find high quality Asian gifts & fashions. Their silk kimono is an elegant piece with intricate hand painted cherry blossoms on the front & back. Each unique robe takes a week to complete and is offered in 7 rich colors. I've already placed my order and can't wait to wear it lounging around with my Hello Kitty slippers! (http://www.oldshanghaionline.com/)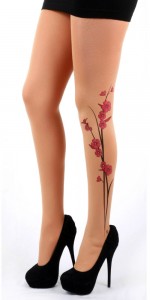 Another Asian inspired retailer Go East Art offers gorgeous tights & leggings with artful printing. The Tattoo collection consists of opaque nude tights with a unique design down the side for a trompe l'oeil tattoo look. The cherry blossom tights are perfect for those who are not ready to commit to the ink but love the look. Simple but edgy there is also an option to add Swarovski crystals to the motif for a little extra sparkle. (http://www.goeastart.com/)
Have you attended Sakura Matsuri this season? Which other flowers do you find inspiring this time of year?