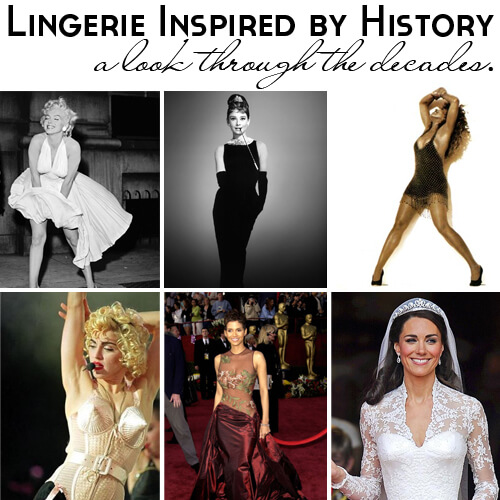 Today's blog post comes to you from Erinn of The Bare Intimates, a new lingerie and beauty blog, and one already on my short list of daily reads. I adore Erinn's fresh, visually-exciting perspective on lingerie, and am pleased as punch that she's here bringing her inimitable point of view to The Lingerie Addict. If you feel the same way, take a look at Erinn's blog, The Bare Intimates. You can also find her on Twitter and Pinterest.
Throughout history, women have been making an influential impact in the fashion industry. With each new decade, we're consistently surprised by women who brave the red carpet and their respective industries to boldly change the trend.
I'm a huge pop culture addict, and one of my favorite things to do is to see how influential outfits of female icons in the past have influenced our lingerie industry today. A favorite game of mine? Let the dress choose. If the dresses could actually choose what lingerie to wear every day, what would they say? Let's have a look.
The 1950′s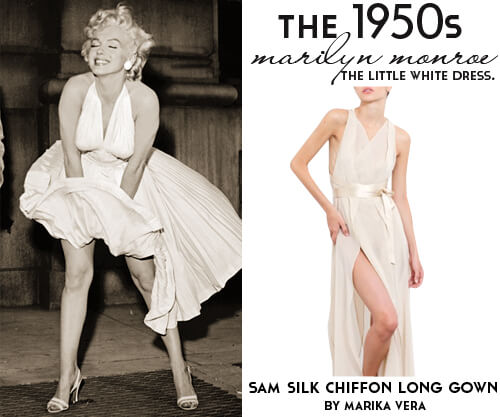 The 1950's are hard to imagine without Marilyn Monroe and her legendary sex symbol status. The curves, the voice, the little white dress! This SAM Silk Chiffon Long Gown is equally as sexy and forms to your body in the right places.
The 1960′s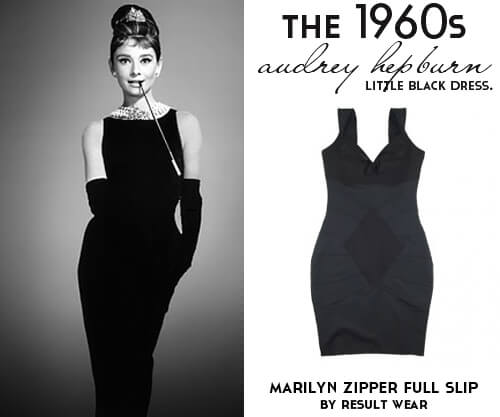 Audrey Hepburn claimed the 1960's as her own. With her tall, thin frame and form fitting dresses, this fashion icon knew what was up. Her black dress from Breakfast at Tiffany's was skintight and classic, and this Marilyn Zipper Full Slip is the perfect undergarment to pair with this dress.
The 1970′s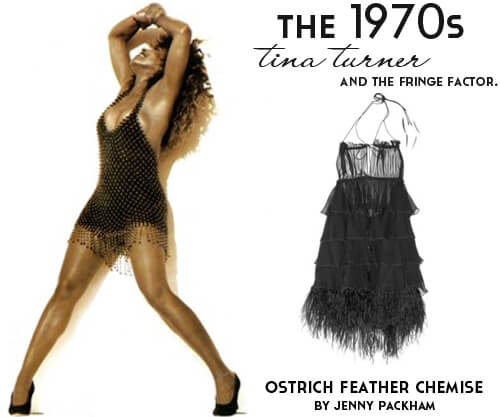 Ahh, the decade Tina Turner and her legs made their famous appearance. Tina Turner is all about the short, fitted mini skirts and fringed fabrics. This Ostrich Feather Chemise would definitely be it's daily companion because let's be honest, no one does the fringed mini like Tina Turner.
The 1980′s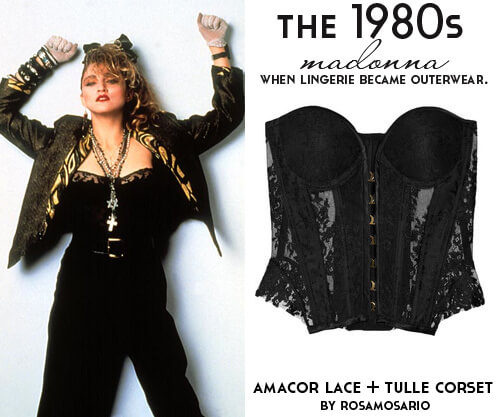 The 1980's rolled around and suddenly, Madonna was a household name. With her daring outfit choices and risqué behavior, Madonna climbed the charts and made every day girls want to look like her. Although it had been done before, Madonna's trademark outfit was pairing a lingerie piece as a normal top. Just like that, lingerie as outerwear became a chic thing and this Amacor Lace & Tulle Corset would be perfect for a night out on the town.
The 1990′s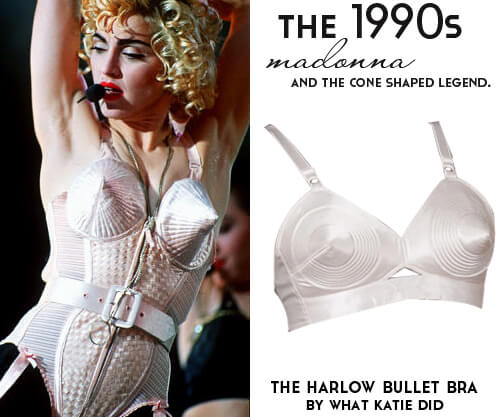 Yes, we're still talking about Madonna. But only because this is when Madonna's famous Coned Bra look was broadcasted all over the world and designers are still replicating the look for ladies. This Harlow Bullet Bra is absolutely what this material girl would pick as her daily bra.
The 2000′s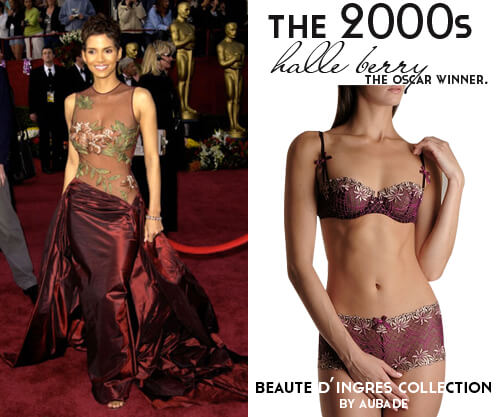 Looking back at the last decade only a few dresses stand out in my head. Halle Berry's iconic 2002 Oscar Dress was a remarkable choice. She showed off curves, won the Oscar and left her dress behind for us to remember. This Beaute D'Ingres Set is a perfect daytime match with its burgundy tones and floral accents.
Right Now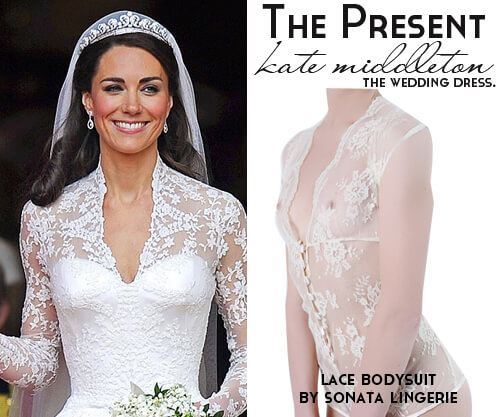 Two years in to a new decade and I can only think of one iconic outfit that has paved it's way through history. Kate Middleton's wedding gown was perfectly royal as she walked down the aisle in April 2011 to marry Prince William. The gorgeous and feminine lace details crafted by Alexander McQueen will be remembered forever, and has been replicated for brides across the globe. If it had to choose, we'd say this lace bodysuit by Aida is the perfect every day compliment to this gown.
Thanks for having me, Treacle!