By: Pyppa
Strumpet & Pink Knickers
Without any doubt winter is definitely upon us, and its time to wrap up more than ever.  But this doesn't just mean an extra scarf or some suede gloves. This means wrapping up from the inside-out.
So in this article I've highlighted my top 5 lingerie and loungewear buys to keep you warm through the winter. Whether you're looking to layer up and brave the outdoors or to stay in and lounge in front of the fire, there's something for everyone.
1) VPL
VPL is a relatively small lingerie company that focuses on the loungewear element of lingerie, creating beautifully simple bras and briefs with sportswear style finishings for extra comfort. While not the most supportive of styles for the bigger bust, the 100% cotton jersey makes them extra cozy and soft…brilliant for an early night in. Available from Catriona Mackechnie and currently on sale!
2) ASOS
Equally soft, equally cozy, and equally 100% cotton, this is perhaps the UK equivalent of VPL. Available from ASOS, this soft cup crop top style bra is perfect for layering and wrapping up and so comfy you'll barely know you're wearing it!
3) Sonia Rykiel Spring '11
This spring Sonia Rykiel really did show some perfect winter warmer lingerie and loungewear. This is ultimate winter night-in wear. Using only the most luxurious knitted cashmeres and merino wools, in the most divine bold pastel shades, this won't be beaten in terms of comfort and style.
4) Strumpet and Pink
Beautifully hand crocheted in the UK, and made to order, Strumpet and Pink wool knickers. Perhaps not the most practical, and at anywhere between £600-£800 a pair, certainly nowhere near the cheapest, these knickers are more of a work of art that I just had to share!  Visit Strumpet and Pink to see more of their stunning one-off creations.
5) Hopeless Lingerie
Based in Melbourne, Australia, each and every piece from Hopeless Lingerie is lovingly handmade to order.  This red collection is made from beautifully soft modal jersey and fine cable knits. Very reasonably priced between $40 – $70 these handmade pieces are my absolute must have for the winter.  Softer than you would believe, and so cosy and comfy you'll barely feel like you're wearing them at all, I thoroughly recommend you try out this up and coming independent lingerie designer.
Get your orders in quick though to beat the queues (which inevitably come with such beautiful handmade-to-order pieces in the run up the Christmas… )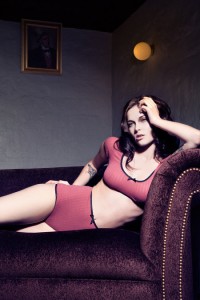 So those are my top 5 winter lingerie and lounge wear buys for wrapping up this festive season.
Here are a few more tips to stay warm and be extra cosy:
Pick knitted jersey fabrics, in particular the extra soft modal jersey and fine cable knits.
Choose loose fitting styles for extra comfort, simple shapes to easily layer either on top of underwear (as a camisole or shorts) or as a base layer under a lovely cashmere jumper.
Select soft finishing's and elastics for never-ending comfort, and quality fibres such as merino wool and cashmere for the ultimate luxury winter wear.
I'd love for you to share your favourite lingerie and loungewear buys to embrace the winter months! Tell me what they are in the comments.