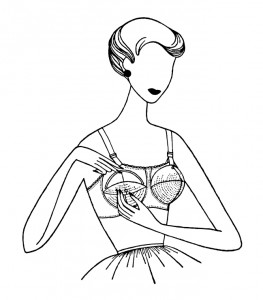 Most fashion bloggers look forward to Fashion Week, but for an addict like me, lingerie market is the most exciting time of the year.
I love looking at upcoming collections. I love meeting the lingerie designers. And I really love bringing you, my readers, new and exclusive sneak peeks of what to expect next season before everyone else. After all, it's never too early to start your lingerie wishlist, right?
This year, I'm attending three separate lingerie tradeshows: CurveNY, Lingerie Designer Showcase, and New York Intimate Apparel Boutique Show. And just like last year, I'm liveblogging the shows.
You can find up-to-the-minute coverage on three of The Lingerie Addict's official social media channels: Twitter, Tumblr, and Instagram (search for thelingerieaddict). Follow one or follow all three to make to make sure you stay in the loop.
As a lingerie blog written for consumers by consumers, I want to make sure I'm covering the brands and trends you're interested in. Is there anything you want me to keep an eye out for this year? Tell me in the comments!
P.S. If you're an independent lingerie designer, retailer, or blogger don't forget to join Independent Lingerie Professionals! We're having an meetup in NYC during market…details are in the group.