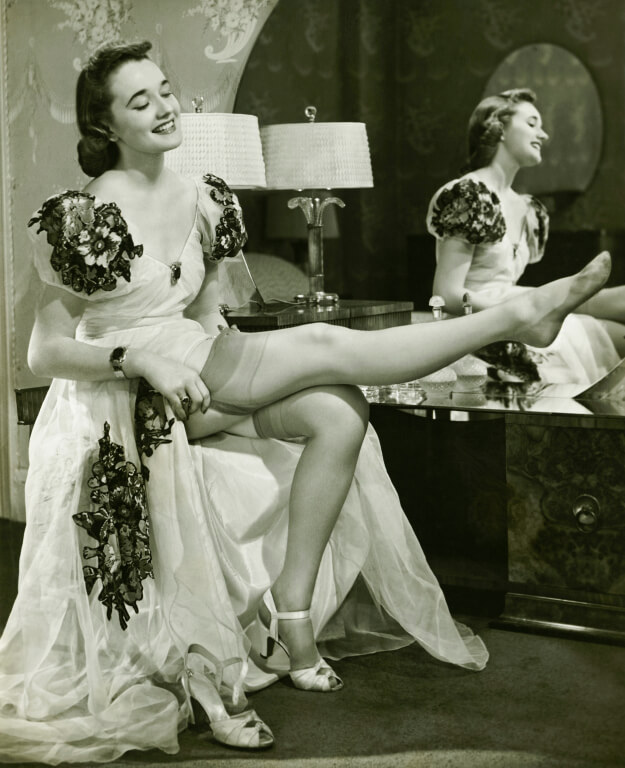 Wanna know a secret?  The name of my blog wasn't always The Lingerie Addict.  Back in the day, I was called Stockings Addict, and my posts were all about stockings, tights, and hosiery in its various forms.
What changed?  Well…I started spending more and more time looking at all kinds of lingerie and less and less time looking exclusively at stockings.  After a few too many evenings on Figleaves and Bare Necessities, I realized what all of my close friends knew already…I was an incurable lingerie addict.
But even though the name of my blog is the lingerie addict, I know I'm not the only lingerie addict and so last week's Q of the Week was all about discovering what makes you a lingerie addict too.
Take a look at what some of your fellow readers had to say on Twitter and Facebook, and, as always, I'd love to hear your thoughts in the comments!
_____________________________________________________________________________________
"When you have a whole dresser full and half of your closet is taken over with the precious sexiness!!" ~Janet
"Because I hope, every single day, that I come home from work to my girlfriend in lingerie! ;)" ~Shawn
"It isn't the amount of lingerie in your drawer, it's the burning desire for the feel of lingerie in your heart." ~S. Nikh
"When you want everything you see." ~Myoshi
"When you've had to buy additional dressers to make room for it all and your husband goes out and buys it for you for no occasion, just because!" ~Rebecca
"When you have 2 bags of bras in the bottom of the wardrobe and a drawer full in the dresser. Two drawers full of assorted thongs, panties and other frillies, not to mention the box under the bed of stockings and sussie belts………shall I go on?!?!" ~Ann
"When you have lingerie 'on reserve!!'" ~Sandra
"Friends & family know u so well that ALL you ever get as 'gifts' is lingerie…" ~Ruth
"When your lingerie drawers are so over stuffed you get rid of other clothes/things to make room for more." ~Christine
"When you can list at least 10 lingerie blogs that you read. ;-D" ~Alison of Faire Frou Frou
"When you wake up from sleep thinking about a piece you saw, or in my case a piece you want to make ;)" ~Layla of Between the Sheets
"Can you be an addict by association? or does it count if I am addicted to lingerie but only when it is my girlfriend that is wearing it?" ~Jason
"When you have a dresser just for your lingerie." ~Martina
"When you can look at any piece of and go MMMMMMMMMMM." ~Patrick
"WOW!!!!! You just know." ~Lynn
"She says I am." ~Andrew
"When you have to open a lingerie boutique to share the lingerie love." ~Robin
"When you & the girlfriend take 15 minutes in a store to decide which panties are more see-thru."
~Franku of Frankufotos Lingerie Blog
"You realize contents of your lingerie "wardrobe" are equivalent to a down payment on a condo." ~@Suzieqnorth
"When your ex-husband builds you your own lingerie closet……a walk in none the less." ~@hotlilly
Photo Credit: Hugh Lippe