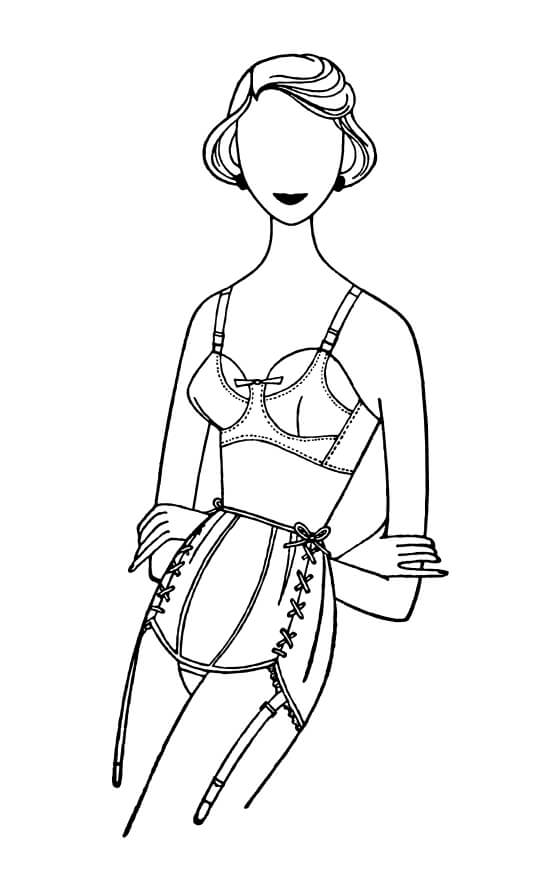 Note: As of January 2014, The Lingerie Addict no longer offers social media consulting. Social Media Management is our only available service.

No matter how old or new your lingerie business is, the internet is vital to finding, keeping, and communicating with your customers. The days of most people using the yellow pages to find their nearest lingerie boutique are over. Whether your customers live halfway across town or halfway across the world, social media is your primary way of staying in touch of them. Plain and simple: in today's business world, if you're not online, then you're irrelevant.
We all know lingerie is the most intimate part of a woman's wardrobe, and customers prefer to purchase their undergarments from names they know and trust. Ask yourself – when a customer is ready to hand over the credit card info, will your store be the one she has in mind? Why should a potential customer choose you over one of your competitors? What about your brand or store is special, unique, and exciting? This isn't the time for taglines, slogans, press releases, and marketing speak. Brands that can readily identify why customers should purchase from them, and then adequately convey that information are the ones making the sales. Everyone else is just hoping for the best.
Social media is the best place to share your brand's story and talk about why your brand matters. Through blogging, Facebook. Pinterest, Twitter, Tumblr, and Instagram, you're able to craft those key messages that help to distinguish you from the competition. Regardless of if you make most of your sales online or not, it's still necessary to have an online presence. But you're already busy…what if you don't have the time?
That's where I can help.
What Do You Need in a Social Media Manager?
For years now, I've offered hourly social media consulting for lingerie brands. However again and again, I've been told,"This is all so much work. Wouldn't it just be easier to just you do it for me?" I know what it's like to have more on your plate than you can handle. There's already so much that goes into running a business; adding one more thing to the list, even something as important as social media, can seem impossible. You want to do it. You need to do it. You just literally don't have the time.
As the founder of the leading lingerie blog in the world, I understand how to use social media to grow your online presence. I don't work in theories or guesses; the tools and strategies I use for my clients are the same ones I use for my own site and social platforms. If you're ready to hire a social media manager for your lingerie business, then you want to look for these three things:
Is this person knowledgeable about lingerie? There are lots of places that offer social media management, but lingerie is a very specialized industry. The world of intimates requires inside knowledge of specific and detailed terminology. Do you want to spend your precious time and hard-earned money teaching someone the difference between a demi bra and a balconette? Or do you want a social media manager who already knows this necessary background information and can start immediately with the larger issues that are relevant to your brand?
Is this person knowledgeable about social media? Anyone can call themselves an expert, but you should always want to see proof. I've built a social media following over 100,000 strong from the ground up and without the benefits of a major PR or ad campaign. That's not an accident, and it's not a stroke of luck or a fluke. It's the result of consistent strategy and deliberate research…strategy and research I can put to work for your business.
Is this person experienced in dealing with crisis situations? It's easy to manage a brand's social media presence when everything's going well and everyone loves you, but it's at times of crisis that you really find out what you've paid for. No brand can anticipate when they'll encounter bad press or arouse the anger of the internet. It's also true that the online world move so quickly, you may go to bed while everything's fine and wake up to a global PR nightmare 8 hours later. This is the time when having a professional on your side matters. I can coordinate with both you and your team to make sure your response messaging is consistent, on target, and appropriate to the crisis.
Brands hire me for three reasons in addition to the ones above: growth, consistency, and return on investment. Growth in the sense that I can increase your numbers of followers, fans, likes, reblogs, and retweets. While numbers aren't the only thing that matters about social media, believe me when I say that people pay attention to them. Since I've worked with all of the major platforms, I can help you grow all of them. Consistency comes into play because you don't have to worry about your social media being updated on a daily basis. You know it's being done, and you know it's being done well…which frees up your time for all the other things your business needs. Whether we're posting once per day, twice per day, or even more, you can trust that your social media accounts are being handled with the same level of care and professionalism that I use for my own…up to and including fielding customer service inquiries. Finally, let's talk about the return on your investment. While numbers matter and posting regularly matters, the biggest thing any brand wants to see is a return on their investment. We'll work together to set goals for the metrics that matter to you, whether it's increased engagement, a bump in website visitors, or, yes, more sales. No one plan is right for everyone, but a good social media manager will be able to come up with a strategy that's perfect for the needs of your business.
Packages and Pricing Information

In the world of social media management, as with anything else, you get what you pay for. If finding the absolute lowest price instead of the best person for the job is the most important factor for you, then we are likely not a good fit. I believe it's important to work with clients who value their online presence enough to invest the appropriate resources in it.
All of The Lingerie Addict's social media management packages are customized, however I suggest a minimum starting budget of $1,200/month for my clients. Below that amount, it will be difficult to put together a strategy that adequately and effectively reaches your customer base for even one platform. From there, pricing varies with the amount of platforms managed and the number of daily updates posted to each site. Please be prepared to share such vital info as your web address, which social media platforms you'd like managed, and what your budget is for a social media manager.
Any quote given regarding pricing is valid for 30 days from receipt. In addition, all new clients are asked to pay a $800 startup fee (payable prior to the start of your first month only) which covers the cost of our initial consulting calls to discover things like your demographics, goals, target audience, etc. Finally, all clients are asked to commit to a minimum 3-month term. Please note that I do not accept access to or begin work on any client's social media platforms until all fees are paid.
Below are three sample packages. Of course, these can be tailored to the specific needs of your business.
What's Next?

If you're interested in working together, please send a message to cora@thelingerieaddict.com. I'm happy to answer any of your questions via email or through a 15 minute phone consultation. If I'm not the best fit for you or if you're looking for services outside the scope of what I offer, rest assured that I'll let you know. After all, I want you to have the very best social media presence that you can. I'm looking forward to talking with you soon!
______________________________________________________________________________________
Testimonial:
Working with The Lingerie Addict for almost a year now has been a true eye opener when it comes to social media. Even though we have been in business since 1995, we launched our website Karnationlingerie.com only 2 years ago.
The online business is much different than running physical lingerie boutiques. Cora has helped us effectively communicate our knowledge and expertise with customers worldwide. She has provided us with useful information and offered key suggestions to grow our branding presence through social media. Cora has successfully incorporated our individual business needs and answered all of our questions professionally. She is reliable and proves to be extremely thorough. It has been a wonderful experience having Cora work with our team and we are grateful for her compassionate insight into our industry!
-Michelle Meyer – Karnationlingerie.com & Karnation Intimate Apparel Inc., Former Social Media Management Client
______________________________________________________________________________